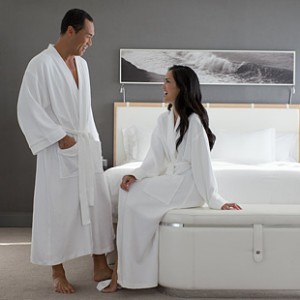 Ah, that comforting feel of terry cloth! We all know that wonderful sensation after a bath or a swim when we wrap it around our body to dry in its folds. A fabric that never goes out of style, the terry cloth robe is a perennial favorite.
A Sumptuous Array of Styles
At Boca Terry, our wholesale terry cloth robes for women are some of the finest you will find in the market place today. All of our fabrics are woven at our own factories, where years of experience combined with innovative techniques have given us the right to boast about our sumptuous array of styles.
Functional and Classic
With constant lab testing for quality, our robes stand out as being extremely functional, beautifully sewn, and highly durable. Our women's robes are particularly classic, coming in styles such as:
The classic shawl collar is made of 100% combed cotton terry. 
The hooded bathrobe with multi-needle stitching gracing the front, cuffs, and pockets and including an ample hood for warmth
. The micro terry robe made of softest polyester, coming in kimono or shawl collar styles. The organic basic kimono made of 100% certified organic cotton terry with multi-needle stitching around its front pockets and cuffs
. The organic classic shawl collar robe made of 100% organic cotton terry. With double belt loops for adjusting waist height, deep pockets, and a hangar loop at the back, our terry cloth robes will give your guests the luxurious feeling that they deserve.
A Little Bit of History
Terry cloth has been around since the mid 19th Century when they were first made in France out of silk. A subsequent mode was made of worsted material and then, in 1848, the first cotton prototype was made by Samuel Holt, who patented his process in England and then in the United States. He finally opened a plant in New Jersey where he became a successful manufacturer of cotton terry cloth.
Durable, Easy to Wash, Wonderfully Comfortable
The process of making terry cloth is accomplished by warping and weaving cotton threads over and under a beam to create the loops that form its texture. With loop length determining how much fluid is absorbed by the cloth, longer loops are generally chosen for their greater capacity to suck up water, often with the result of holding up to two times its own weight. Terry's loop pile acts like a sponge and is extremely durable as it is able to tolerate rubbing, twisting, tugging and pulling without damage. Terry cloth is lightweight, easily washed, and wonderfully comfortable.
Reflecting a Simple Elegance
Our job at Boca Terry is to make this utilitarian fabric into robes that reflect a simple elegance represented by the best locations in the hospitality industry. Our success in this regard is a testimony to our fine craftspeople, our seasoned designers, and the timelessness of a good old fashioned terry cloth fabric.
For more information on our wholesale terry clothe robes for women, or any other need, please contact us by filling out our online form, which can be found at http://50.97.39.122/~bocaterry/contact-us, or by calling 877.421.6001.
Share this item with friends