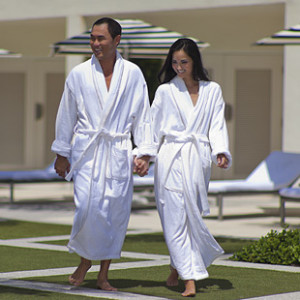 You step out of your beautiful, spacious hotel room into the dry, hot Egyptian air. A sunny day like this calls for a visit to the refreshing swimming pool. You step up to the diving board and slip beneath the surface. After taking a quick dip in the blue-hued water, you head toward a stack of towels and robes available to guests. You pick up a robe, and the soft fabric relaxes you and it brushes over your shoulders. The absorbent terry cloth hugs your frame as you unwind in the warm sunshine. You think to yourself, "Another perfect day of vacation." Clearly, this hotel understands your needs, your desires, and your interests.
Guest Satisfaction
Popular hotels want their patrons to enjoy their visit enough to recommend the establishment to others, while raising the chances of becoming returning guests. In order to do this, they must stand out from the competition by offering unmatchable quality of products and services. When hotels provide guests with plush, comfortable Boca Terry bathrobes during their stay, they are promoting business and ensuring that guests feel at home. Every reputable hotel around the planet should offer guests with this little piece of comfort. By carefully selecting us to provide their robes and towels, guests reap the benefits of such cozy treasures. As our brand expands, we continue to supply bath robes, towels, and spa accessories to world class luxury resorts, cruise lines, spas, medical facilities and promotional product companies all over the world.
Creating and Maintaining Reputation
Since 1996, we have worked with many familiar hotels across the United States, such as Golden Doors Spas. However, borders do not fend us off. Recently, those frequenting ski resorts in Canada now have access to our robes. We are also found among some of the biggest names in hotels, such as Raffles hotels, Hilton hotels (prominent in 91 countries), Ritz Carlton hotels (found in 30 countries), Four Seasons hotels (located in 38 countries) and other five star hotels in Europe and the Far East. How did we get connected with such impressive names? You can thank our distinct products for that. Product quality is our biggest asset.
Quality is the Same in Every Language
Our worldwide wholesale bathrobe clients are guaranteed the best level of quality terry and microfiber products by our controlled manufacturing process. This process has been carefully refined over many years through our involvement with the manufacturers. You will not find our terry cloth robes through any other company. Because we design each product ourselves, we are able to ensure that the quality is held to our own high standards. For example, our basic kimono robe features double belt loops for adjustable belt height, generous pockets, a hanger loop for easy storage, and comes in both terry and velour. This robe is available in three sizes (including one size fits all) as well as three weight options. Our exclusive designs are inclusive of clients' desires.
Capability
Whether we are delivering 1,000 embroidered hotel robes to a Hawaiian resort's grand opening on short notice, or producing 500 custom embroidered terry towels for a promotional company's celebrity golf tournament, the quality of our products is never compromised. Quantity never affects quality, or speed. This is our promise to you.
Offering More
We strive to provide excellent products to all hotels, including green hotels. Three organic cotton robe designs are available through our website for hotels looking to boost environmentally friendly initiatives. Our organic basic kimono, similar to our regular basic kimono, also features double belt loops, generous pockets, a hanger loop, and comes in both terry and velour. This robe is made with 100% certified organic cotton! As you can see, our variety of products allows us to meet every one of our clients' needs.
Unique Prints
We work closely with any size organization (promotional product companies, luxury resorts, celebrity personalities, professional sports teams, event planners, and more) to design and manufacture unique, specialty product lines. If our completely original robe designs do not meet your needs, then consider placing a custom design order. Do you own a hotel in Jamaica, "the land of wood and water"? Are you expanding your hotel locations to the edges of the Amazon? Our customizable designs allow clients to create exactly what they are looking for, such as a nature-inspired robe printed with leaves and flowers that emphasize the features of your hotel! Do you want something outside of the ordinary white robe, but want to avoid large, loud prints? How about a beautiful, yet simple, classy pinstripe robe to represent you and your company?
Customizable Embroidery
If you want to represent your brand through a simpler, more traditional approach, consider stitching a logo or brand name on our plush robes so that guests can remember your outstanding establishment. We offer custom embroidery to accent your product line with beautifully stitched logos, emblems, monograms and more. Our digitizing services turn your own artwork into embroidery.
Ahead of the Game
Because we feel inclined to put our clients' priorities first, we carefully watch the cotton market and its trends. This allows us to continue to offer our clients quality products at an affordable price. For example, we recently noticed hourly labor wage costs rising around the globe. We understand that this might result in increased cotton prices. Rather than settling for the rise in costs, we worked with our creative design team and fabric suppliers to engineer a new fabric that would require the use of less cotton, without compromising the plush, soft feeling of the robe. Thus, our Microtec robes were born, resulting in one of our most affordable bathrobe lines.
Fast Shipping
Did your hotel management recently notice that you are running dangerously low on robes? We take pride in our quick shipping, and we know that we can get your robes to you when you need them! Because we have distribution across the United States, Europe and the Far East, we fulfill all of your needs quickly.
Supporting Communities
By working closely with manufacturers around the globe, we are able to have a positive impact on other countries. Our products are manufactured in China, India, Pakistan, Turkey and Columbia. Through working with factories in these countries, we are able to ensure that jobs are created and maintained. This helps to create stability for workers living in these areas. Companies around the world that buy our products understand that we are helping to support them daily.
Let Us Help You
No matter where you are traveling, or where your company is located, Boca Terry can and will provide the most impressive terry cloth robes and other spa products for your hotel! If you would like to join the hotels around the world ordering wholesale, or you have inquiries about wholesale pricing, contact us today!
Share this item with friends