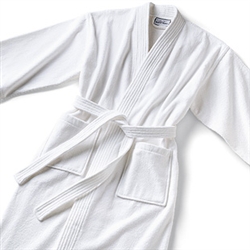 Step aside, satin! Make way, microfiber! Watch out, waffle weave! Terry cloth is here to stay! An all-around great material, terry cloth is absorbent, soft, durable, and unstoppable! Find out why buyers can't get enough of our terry cloth robes.
Terry Cloth in a Sea of Fabrics
Amanda Mears, for Overstock, writes, "A quality bath robe is a bathroom staple that works equally well for casual lounging and . . . spa treatments. Whether you're buying a bath robe for yourself or as a luxurious gift, there are several different fabrics to choose from that will determine how your robe looks and feels" (Mears). With so many choices available, it is crucial to note that terry cloth bathrobes are, arguably, the most popular variety available. Robes made from this fabric are perfect for hopping out of the shower and drying off, or for warming up mid-winter when the icy cold, bone-chilling air is relentless.
Unmatched Comfort
High quality terry cloth is highly praised for its comfort. If you don't believe us, just slip on our Hooded Bathrobe. You will immediately notice the generous pockets, big enough to hold your room key, extra sunscreen, or your sunglasses. Loosely tie the belt around your waist, using the proper belt loop holes that are best for your height! Embrace the feeling of 100% combed cotton, gentle against your skin. Just when you think you've reached the peak of comfort, flip the extra large hood over your tresses! Cold air is no match for this robe, designed for supreme ease and tranquility.
Absorbency
Mears goes on to write, "Cotton terry cloth bath robes tend to be the most absorbent and are your best bet if you plan on using your robe primarily for toweling off. Cotton robes absorb water and perspiration, helping you stay dry if you choose to wear your bathrobe for lounging in warmer temperatures" (Mears). Made from cotton strings formed into thousands of loops, terry cloth holds water extremely well. One of the best choices for absorbency, terry cloth robes are a very versatile item, no matter the climate.
The Power of Terry Cloth
As you can see, terry cloth is an excellent choice for any weather. Warm enough for frigid Fridays in Vail, while light enough for steamy Saturdays in Rio de Janeiro, terry cloth is a highly coveted item for its adaptability and versatility. Are you afraid that our terry bathrobes are too warm for your resort? When you look at the detailed description of our robes, you will see that many of them allow clients to choose the desired weight. Depending on how warm and luxurious they want their robes to feel, clients choose robe weight. For example, our Classic Shawl Collar bathrobe is available in our clients' choice of 12 ounces, 14 ounces, or 16 ounces. If you are looking for something a bit more airy, we suggest choosing the 12 ounce option. Ski lodges would definitely benefit from opting for the 16 ounce options! Guests will be thankful that you've pampered them with a warm, heavy weight robe in the midst of a snowy mountain range!
Set Your Brand Apart
Our robes are created with care and a well crafted eye. Every item that you see on our website is a completely original product designed by Boca Terry. We take full ownership of the design and manufacturing of each of our wholesale bathrobe and spa accessory products. Our robes are made of materials sourced from around the world. In fact, the fabric we use is woven specifically for us by our manufacturers. Business owners, ensure that your robes are as unique and impressive as your brand is by providing guests with Boca Terry!
Made to Last
We strive to create quality cotton products, manufactured with precision. Every stitch is strategically placed, bonding the custom-made materials together to create our originally designed robes. We have refined our manufacturing process down to a science with meticulous fabric research for quality, unique design for innovation, sample making and systematic lab testing. We are sure that you will not find this quality elsewhere.
Friends with Benefits
No, not the kind of benefits you might be thinking of! Our close relationships with our manufacturers allow us to ensure that we receive amazing products at outstanding prices. Because we having a trusting bond with these manufacturers, we cut out the middle man. In turn, production costs are lowered. This allows us to provide clients with our high quality products at competitive prices! Our robes give clients and their guests much more than they bargained for!
Why Wait?
Terry cloth robes are essential for many companies to run. While we suggest that you always keep extras on hand, we understand that this is not always an easy task (especially when hotel guests accidentally pack our cozy robes in their bags). If you suddenly discover that your stock is low, you know where to go! With shipping centers in Florida, Los Angeles and Hong Kong, we guarantee fast shipping! Our distribution centers are capable of shipping anywhere in the world on time, with care.
Large Orders
Let's say that in the middle of ordering, you realized that you need more robes than you thought. Do not worry. We can handle large orders easily! We are prepared to enhance your company's guest experience quickly and efficiently. No matter the quantity, the quality of our products is never compromised. You can trust us to keep your best interest in mind!
Relaxation
Many fans will argue that nothing speaks relaxation and comfort quite like a terry cloth robe. On that note, check out Will Ferrell and Nick Offerman sporting robes on the Today Show! Viewers can see that they seem right at home, drinking Bloody Marys. Looking cozy as they prepare for the day, these two showcased their best leisure wear, which was destined to include the highly coveted terry cloth robe!
Boca Terry Continues to Meet Your Needs
We offer even more options of terry cloth items, such as terry cloth slippers, headbands, spa wraps, lounge chair covers, and more! For more of our terry cloth robes, see our bathrobes section! Don't forget to look at our organic terry cloth robes, as well! To find out about pricing, or to order our wholesale terry cloth items today, contact us!
Works Cited
Mears, Amanda. "FAQs about Bath Robe Fabric." Overstock.com: Online Shopping. Overstock.com, n.d. Web. 22 Apr. 2014.
Share this item with friends