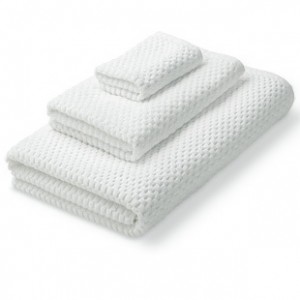 We have all been there: you are at an amazing hotel or resort, and decide to take a dip in the refreshing pool. Your significant other comes over to tell that they have just made dinner reservations! You check the clock and notice that your reservation hour is coming up; it's time to head back to the room to get ready. Pulling yourself from the pool, you head to the towel bin, ready to dry off.
Getting Ready to Go
You reach into the bin abyss, and discover that there are no towels left! You are cold, wet, and you need to get ready for the big date. There is no time to air dry. You look around the pool deck and notice how many individuals have 2 or more towels, and think to yourself, "as if they need them!"
You Have No Choice
Desperately, you grab a wrinkled towel that was tossed beneath the pool lounge chair next to yours. To your dismay, you find that it is still slightly damp from the last user. Disgusted, you quickly dry off, throw on your clothes, and run to the room to get ready.
It Affects Business
That's right, business owners: this lack of service can affect your business! If your guests are frequently experiencing this frustration, you better believe their family, friends, and fellow Facebook users are going to know about it! Even worse, you might expect to receive a bad review online due to this issue. Your possibility of a glowing 4 or 5 star review has now dwindled to a 3 star review.
Fix Problems Before They Arise
Let's be honest with ourselves, this "problem" is easily avoidable. If you have become a victim of this difficulty in the past, there is a very easy fix for it: stock up now! Your best bet as a business owner is to anticipate guest and clients' issues before they discover them. You should address and fix potential issues before they even arise.
The Time is Now
Now that summer has arrived, so have all of your guests! It is more important than ever to provide your customers with several towels. Be honest with yourself: in the history of man, no one has ever complained about having too many towels!
When Visitors Use Towels
The pivotal sin by many establishments is to only provide towels until a certain time. The problem with this, however, is that your guests might want to swim after 6pm. Just because the lifeguard is off duty doesn't mean adults are afraid to swim in the pool. Who doesn't like to spend time in the hot tub after the sun goes down? A romantic evening for two, a double date, or just a family hangout session might all take place in a hot tub. In fact, most guests will wait until nightfall to even utilize the hot tub because it is too warm and humid during the day. Do your guests a favor: Make sure that you have enough towels to provide them with one at all times of the day!
Where Guests Need Towels
You can expect that your patrons will need access to towels almost everywhere. They are away from home, so your job is to make them feel at home. They should find every item they are looking for with ease. In the case of towels, guests should have clear access to bath towels and wash cloths in the bathroom, and beach towels at the hot tub, pool, and beach areas! You should provide several towels for each visitor; someone might want to cover up in a towel while they dry their hair with another one!
The Importance of Abundance
Studies have shown that environmentally friendly hotel practices, such as asking guests to reuse their towels, often result in guest refusal (even if guests consider themselves earth-conscious). CNN reports, "That's the problem of hotels trying to 'green' your hotel stay. After guests have paid a pretty penny for a night at the inn, even the most environmental guests may want to treat themselves to fresh towels every day" (Hetter). Surprise, surprise, green companies: you need an abundance of towels, too!
Why Guests Won't Go Green
They go on to describe, "It can be nice to have fresh towels, and not doing so is a sacrifice . . . Participating requires some effort, and there's some cost to be incurred on the part of the consumer" (Hetter). Basically, your customers want the most value out of their stay. They correlate value with service, and they interpret a clean towel as good service. Even as you introduce environmental programs, you will still need to stock up on those towels!
Value Your Patrons
Your customers have spent their hard earned money at your establishment, trusting your company to meet their expectations. Ensure that you provide them with the best of the best. Staying fully stocked on towels might not be the biggest issue. Nothing is worse than reaching for a towel only to discover how thin, light, and linty it is. By purchasing strong, durable, heavy towels, your guests will be more comfortable, and more likely to recommend your establishment again and again.
Don't Settle
In Layman's terms, don't buy just any towels for your establishment. Show your guests that they matter. Your customers want a heavy towel that is absorbent and gets the job done well. They want to experience a luxurious feel. Take note, also, to offer a beach towel option. No one wants to walk around with a tiny, skimpy bath towel at the pool! Our Resort Collection and Sunny Lane Collection offer towels that meet your customers' every expectation.
Why Boca Terry is a Great Choice
Boca Terry meets all of the qualifications of an excellent towel designer, manufacturer, and producer. Trust us to keep your customers enthusiastic about your place! Are you ready to throw in the towel with your old, overused towels? Give your brand a makeover; Contact us for wholesale pricing today!
References
Hetter, Katia. "Hotel Towel Dilemma: Replace or Reuse?" CNN. Cable News Network, 06 Mar. 2013. Web. 21 May 2014.
Share this item with friends