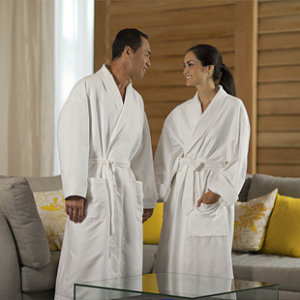 Boca Terry has a large assortment of quality bathrobes along with towels and stylish spa accessories. Among our most popular products, our Waffle style bathrobes certainly stand out.
Combining a luxurious feel with a contemporary take on a classic façade, these bathrobes are favorites among spas, hotels, and cruise lines that are always on the lookout for new ways to make their clients feel extra comfortable. Not to mention, our luxe Waffle bathrobes carry an affordable price tag, too.
Enhancing Your Brand
Today's hospitality industry is highly drawn to the extra relevant customer ratings that can be widely found online. With several sites available for the public to rate their experiences at various hospitality industry locations, paying attention to comfort has become evermore prominent, which is where a comfy bathrobe comes in handy.
Maintaining High Ratings
Perhaps one of the most important characteristics tied to keeping your ratings at a high level is showing dedication to offering the best product lineup at your facilities. Many times, being ahead of things can get pretty costly, which is why Boca Terry is focused on sustaining low prices without compromising your access to quality bathrobes.
Firstly, we do this by not working with any middlemen, as doing so would cause our prices to go up greatly. We pay close attention and hold responsibility for everything that takes place in our factories as well as our distribution centers. We basically handle all parts of the manufacturing and production process.
Quality Control at Its Finest
Seeing as how we're namely responsible over everything that goes in and out of our factories, we are able to securely manage our quality control. This has become a large part of Boca Terry's identity. We are known for only allowing the best products get to the hands of our clients.
Personalized Designs
No product is perfect without having a flawless design. Our design experts are always ready to customize our bathrobes, so you won't have to worry about resorting to a second party to personalize your order. These sleek designs help make bathrobes truly look like they're one-of-a-kind, as they're specially designed to mirror your brand.
In order to produce the design you have in mind, Boca Terry will work with you to create a beautiful and unique design/logo. As proclaimed perfectionists, we pay close attention to detail and will make sure to use the colors that correlate to your establishment, so that you can effectively promote your brand.
Snugness for Any Location
Our Waffle bathrobe lines are made using a weave pattern that isn't just lightweight and soothing to the touch; it also keeps the wearer warm in the coolest temperatures. Similarly, the Waffle robe's composition allows for keeping cool in warmer areas. It can even be used as a light cover-up, too, rather than having to cover with a bulkier garment. Moisture is kept away thanks to the small washcloth-like squares on the robe.
An Extra Soft Caress
It's safe to say that all of our clients have become increasingly fond of our different Waffle robes. Whether they're to be used by the shower or the Jacuzzi, or even at the gym, these bathrobes have secured their place of being counted among the most popular.
Most spas have grown to love the ability of these robes to capture emollients to ascertain that their clients get the most out of their spa treatments. After all, soft skin is a must after any massage or mud bath.
A Long-Lasting Luxurious Feel
A lightweight feel on our Waffle robes comes with a strong breeze of luxury, made for both men and women. With a one-size-fits-all measure, ordering is easy for everyone. For one, it'll keep your costs low, and you won't have to worry about whether it would be a good fit for your customers.
Boca Terry also has plus sizes available, so you can even place a special affordable order. All of our bathrobes are created with longevity as a priority, and our Waffle robes are no exception. They can withstand several launderings without causing the fabrics' threads or stitching to break down. That means you won't have to fret spending more on additional orders that would be needed if you had to deal with wear and tear.
Keeping All of Our Promises
Our wholesale Waffle robes are not only beautiful with a hugging silhouette that can suit any body type; they also come with features that make them easy to throw on or off. Double belt loops allow for adjusting the waist belt height and a hanger loop can be conveniently found on the inside of the collar.
Deep pockets on the front of the bathrobes up the style while providing a spot to store personal items. Whether the wearer would like to store their keys or other belongings, the generous pockets make room for just about anything.
Boca Terry's Different Styles
To give your guests an unforgettable experience at your facilities, choose among the following Waffle bathrobe styles:
A timeless look is effortlessly created with this piece, which comes with optional color piping and differing styles as well as varying fabric blends. The Basic Kimono Waffle comes with the choice of either 100% cotton or 67% cotton and 33% polyester, whereas all other styles only come in the latter.
Both the Kimono and Shawl Collar styles of this ultra rich robe are available in 45% cotton, 45% modal and 10% polyester blends. The modal fibers make for a softer feel while intricate stitching creates a practical design. Roll-up cuffs and a roll-up collar allow for keeping warm.
This gorgeous shawl collar lined waffle bathrobe is made of a 67% cotton and 33% poly shell with a soft French terry knit lining. The unlined version comes in the same fabrics, but without the terry knit lining. The Shawl Waffle is characterized by a hugging diamond-shaped weave and design details that accentuate comfort.
The Organic Lightweight Waffle
Who said a bathrobe can't be eco-friendly? This beautiful garment is made of 100% certified combed cotton without the use of genetically modified seeds. The organic production process excludes the use of pesticides, herbicides, and other harsh chemicals that can deteriorate the quality of natural fibers. Guests prone to allergies or skin irritations will fall in love with this bathrobe.
Contact Boca Terry
Boca Terry has over 50 years of combined staff experience in manufacturing, giving us the expertise needed to make sure that all of the fabrics we use offer a luxurious feel at a competitive price. Give us a call today for more information about our top-notch wholesale Waffle bathrobe assortment.
Share this item with friends