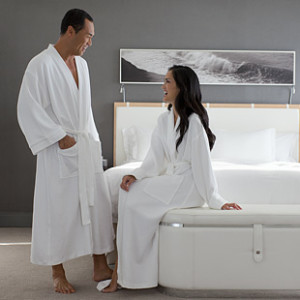 Welcome, lover of the tropics, back to your favorite spot! You have arrived at the all-inclusive, high-class resort at which you are always treated as royalty. Your first day of adventures was packed with snorkeling, windsurfing, and paddle boarding, while the next day consisted of water skiing and water tubing. These two action-packed afternoons have left you ready to unwind in tropical paradise with a fruity, refreshing beverage in hand while resting beneath a large palm tree's shade. No relaxation is complete, however, without a regal waffle weave robe.
Waffles Aren't Just for Breakfast, Anymore!
Unfortunately, it is only the second day and you've noticed a bit of fiery sunburn spreading across your shoulders and back. You reach for a lightweight waffle weave robe, and notice that the fabric protects your skin from the sun's rays. It is even airy enough to avoid irritating your skin further. You head to a lounge chair wading in the sea and sit back as the water laps across your feet. Wrapped in a breathable waffle weave robe, you lie back, and the sun dips behind the sea line.
Lightweight Luxury
Before you reach for that waffle weave robe, consider what makes this robe so special. The modern waffle weave is lightweight, and durable, yet soft and comfortable. This material is an excellent blend for warm climates. Because we have a great number of outstanding clients from Hilton hotels to Four Seasons hotels, you are likely to see a beautiful Boca Terry robe on your next tropical vacation! Whether you are cruising across the Caribbean hitting all of the most popular islands (Jamaica, Bahama, come on pretty mama!), or you are settling in at an immaculate 5-star all-inclusive resort in Cancun, our Boca Terry robes are the number 1 choice for warm vacations!
Waffle Weave Worldwide
While many imagine fluffy, plush robes to be the epitome of luxury and comfort, those visiting a tropical paradise will beg to differ. Anyone familiar with this type of vacation understands that a waffle weave robe leads to ultimate rest and relaxation. Perfect for sleeping by the pool, reading near the rolling waves, and sightseeing from your balcony, waffle weaves are comfortable and convenient!
Material Girl
It is true; we do live in a material world. Luckily, our products stand the test of quality and class! The lightweight waffle fabric weaved by our manufacturers is made from absorbent cotton. It is loose- fitting, airy, and breathable, so guests can enjoy this type of robe even in the hottest climates. Our robes are made from durable, long-lasting fabrics so that plenty of your guests can enjoy for several years to come! Our flawless robes are made from the best materials! We can all afford to become material girls (and guys) because Boca Terry our robes are high-class and high-quality without the high price!
Spice up Your Spa
As you can see, we have a passion for quality and comfort. Our passion helps us to understand what our clients and their guests really desire, like the fact that no one wants to enter a spa only to immediately suit up in a heavy, hot robe. This is why we offer waffle weave robes, the perfect ingredient to bring your business from "blah" to spa! The light material is soothing to guests as they embrace the comfort and relaxation of your spa services. They will feel perfectly at home and at ease, in these!
Kimono Waffles Robe
Among our endless fabric choices and styles available, we offer clients four beautiful waffle robes to choose from! Invest in your business with Kimono Waffles bathrobes! This high-class option is available in four different waffle styles: the large diamond pattern, multi waffle kimono, basic waffle, and the seashell waffle! Our robes give our clients an abundance of choices. Not just any robe will do. We understand that, in order for you to express the class, personality, and design that your business exudes, we must provide you with options that emphasize this as well.
Knit Waffle Bathrobe
Our Knit Waffle bathrobe is the ideal option for companies looking for something plush, yet lightweight. Available in kimono style, or with a shawl collar, this robe is designed with comfort in mind. Our softest waffle robe, this robe is made with feather-soft modal fibers, which are characterized by their rich and unique attributes. We all know that sunburn makes you feel hot, so our breathable fabric ensures you will not overheat in the sun while protecting your burns from intensifying. The lightweight material will ensure that this robe does not sit too heavy on those sunburned shoulders.
Shawl Waffles Bathrobe
Our Shawl Waffles bathrobe helps bring more class to your company! Show off your physique in a light, airy Shawl Waffles robe. Help your robes and your business pop by opting for the optional color piping! Your business will flourish as guests recommend your company over and over again.
Organic Lightweight Waffle
Yes, we said organic! We believe in the importance of planet protection. Our Organic Lightweight Waffle is the quintessential sign of class and care. Guests with allergies, skin sensitivities, and a big heart for our planet will wholly appreciate that your business provided this robe. The next time your ship cruises the Caribbean, you can relish in the fact that you have not polluted the crystal clear, turquoise waters with pesticides and other chemicals used in growing conventional cotton.
He Put a Ring on It?
Congratulations! Lucky for you, waffle weave robes are breaking into more than just the hospitality environment. There is nothing more regal than a flawless robe, and a poll on WeddingBee shows that more brides prefer to buy personalized waffle weave robes for their bridesmaids than the popular satin robe option! Share the comfort of a useful waffle weave robe with your best friends. She will understand how ecstatic you are to have her in your bridal party when she unwraps a brand new waffle weave robe! Always remember to customize and embroider, for her!
Fierce Enough for the Famous
We are not surprised to catch Sasha Fierce in a luxurious bathrobe. Check out our blog post featuring other famous celebrities sporting robes!
Boca Terry, Only the Finest
If you are interested in buying Boca Terry's flawless robes wholesale, or you need information about pricing, contact us today!
Share this item with friends