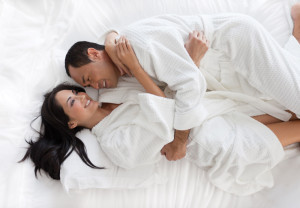 When was the last time your hotel guests paid your hotel or spa a compliment for an outstanding experience? Whether you can't recall that moment or it wasn't too long ago, there's no doubt that your customer satisfaction is highly reliant on the quality of the amenities offered at your establishment.
Bathrobes are among those facilities that can make a huge difference in your guests' stay. No matter what industry you're in, from spas to cruise lines and luxury fitness centers, quality should always be a priority. Your bathrobes and towels should be maintained with the same care taken with ascertaining the cleanliness of your accommodations.
The Right Fit and Finish Does Wonders for Relaxation
There's nothing more comforting that slipping into a garment that can completely flatter one's unique silhouette, while offering the flexibility necessary to move around easily. That's the sensation your guests will get with Boca Terry's wide assortment of one-size-fits-all luxury bathrobes. Some of our bathrobe styles are also available in plus sizes.
Seeing as how Boca Terry has been in the bathrobe manufacturing industry for over two decades, our expertise has allowed us to choose the highest quality fabrics. Our top-notch manufacturing techniques also assure that every fiber is woven to perfection to ensure a durable composition that can withstand several launderings.
When a garment's composition isn't of a resilient nature, it can shrink and show signs of wear and tear after being placed in the wash several times. Prolonged exposure to a heavy load of laundry detergent can deteriorate the fibers of the fabric, which can cause it to break down more quickly and eventually rip.
Monitoring maintenance processes is a must to ensure that your bathrobes are being washed with efficient methods. Using too much laundry detergent, for instance, can have the adverse effect of causing the bathrobe to become coarse as the detergent particles stiffen its makeup and cause it to loose its smooth feel over time.
An Attractive Style for Versatile Wear
Sometimes, a bathrobe can be made using high quality fabrics, but its design might not be very appealing. It's just as important to choose a long-lasting bathrobe, as it is to go with a functional scheme. If your guests come across a dull bathrobe or one that seems worn out, it'll most likely discourage them from wearing it.
On the other hand, if your bathrobes boast an elegant look and practical features, your guests won't want to take them off. Here are some of the convenient elements you'll find on most of Boca Terry's luxe bathrobes:
Large front pockets to hold belongings.
Double belt loops to adjust belt height.
Hanger loops to easily store the bathrobe.
Easy-to-fold design to pack and transport with ease.
Cozy roll-up collars and cuffs for facilitated movement.

Boca Terry's luxurious variety of bathrobes not only fit in with different décor themes, but they can also meet a myriad of personal preferences, thanks to each bathrobe's sleek look. Whether you're looking for a more traditional style with a shawl collar, or a more contemporary kimono alternative, you can find it all at Boca Terry.
Each bathrobe is made of a unique premium fabric. From microfiber to cotton terry and velour options, the choices are practically endless! You can select the type of luxury bathrobe you want based on the location of your business.
For instance, if you own an inn situated in the mountains where cold days and nights are frequent, your guests will appreciate having a cozy garment to warm up in. Contrarily, if your guests will be using their bathrobes at the pool or beach, you'll most likely want to go with a fluffier and more absorbent terry cloth alternative.
Similarly, if a bathrobe is to be worn after getting a massage treatment, you should choose a model that's suitable for absorbing oils and lotions, so guests can continue to get the sensation of being pampered. When your customers feel enwrapped by a robe that can suit their needs based on where it will be worn, it will do its purpose justice.
Meeting Personalized Predilections
Another aspect of luxury that can sometimes go overlooked is including the details that make the case for originality. When it comes to lavish bathrobes, this can mean several things. For one, you can simply add a customized design for an above average effect.
Boca Terry's design team can work with you closely to devise a custom design that can cater to your visitors' needs. This could be in the form of a creatively printed bathrobe or one flaunting an intricately stitched logo, monogram, or emblem. Picture how impressionable a smooth luxury bathrobe with a simple design is, and much more of an impact a robe with custom embroidery will make.
By including a subtle design or one that stands out, you'll indirectly be giving your guests a sense of wearing something truly special that they'll instantly correlate to your institution. Even if you decide to offer it as a gift, a customized luxury bathrobe will make the ultimate difference in enhancing your brand awareness.
The concept of customization certainly has a major effect on guests' perceptions, as does offering organic bathrobes. Your institution might be one that promotes an eco-friendly lifestyle, or you might want to suit the green preferences of your visitors. Whatever the case may be, you can find chic organic bathrobe styles at Boca Terry, too:
Organic Basic Kimono
Organic Classic Shawl Collar
Organic Lightweight Waffles

Boca Terry Is Ready to Help Make Your Guests' Experience
With so many different factors that come into play when selecting luxury bathrobes for your establishment, it can sometimes be pretty daunting to know which model to choose. At Boca Terry, we carry a large inventory of several types of quality bathrobes that truly spell out the idea of indulgence, so you won't have to sacrifice performance for a chic look.
To find all of your bathrobe needs in one place and ensure your guests have an unforgettable experience, contact Boca Terry today. We'll be more than happy to help you with any questions you might have.
Share this item with friends