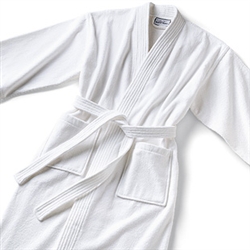 In the competitive world of the hospitality industry, we have to stay attentive to what makes the public choose one venue over another. Yesterday it was because a certain star was staying in a particular hotel, and the day before that it was because of a sterling review in TripAdvisor. As fickle as it can be, popularity is an ephemeral thing if you don't provide the right groundwork for becoming a staple and a classic in the current zeitgeist.
Creating a Legend
Truly popular hotels make it so that the public clamors to stay at their establishments. Consistently great service, attention and even over-attention to detail, superlative choices when it comes to comforts, great taste when it comes to décor, and not holding back when it comes to amenities are what creates a legend. Because Boca Terry supplies most of the legendary hotels around the world, we know what it takes to keep customers coming back for more, year after year, vacation after vacation.Staying at the Forefront of the Industry Vying for the attention of the public requires a vigilant view towards what makes people happy. Making your guests feel good will encourage their return, as well increasing the likelihood that they will recommend your venue to all of their friends, family, and contacts. This chain is what creates the kind of buzz that will keep you at the forefront of the industry long into the future.
Instilling a Sensation of Luxury
One of the secrets of success is choosing quality products that help to instill a sensation of no-holes-barred luxury. This is exactly the reason why popular hotels love Boca Terry bathrobes. Through our undisputed ability to produce some of the most beautiful and exceptionally manufactured garments in the hospitality industry, the presence of our robes in a hotel is an automatic guarantee of rising ratings. Making All the Difference We are sure you can conjure up the feeling of being wrapped in a soft fabric that keeps you warm in cold weather and cool when it is warm… of staying dry when you've just come out of the pool or the ocean… of looking like a million dollars just because the drape of the robe is just so…We are sure you can imagine your guests reveling in the sensation of glamor as they wrap one of our Boca Terry bathrobes around their waists, feeling like movie stars as they relax on a lounge chair or in the intimacy of their room. And we know that it is just this feeling that makes all the difference, no matter if you are a boutique hotel, part of a well-known chain, or an out of the way treasure for only those in-the-know.
Augmenting Your Reputation
Buyers of amenities for hotels are well aware that a Boca Terry robe can raise the bar when it comes to augmenting a reputation. We can attest to the fact that our loyal clients enjoy unremitting recognition and that our newest customers are fast appreciating their choices after selecting any one of our impressive bathrobe styles for their inventory.
The All-Purpose, Go-To Company
Because Boca Terry manufactures robes for all seasons and all purposes, we are able to function as the all-purpose go-to company for supplying just the right robe for you. If you have a spa on premises, you will want one of our Microtec models in addition to our plush terrycloth line. If you boast a bar by a pool, then a Satin Stripe will provide just the right amount of panache for those who wish to be seen and admired. With a robe selection for every situation, you can order a range of styles that will cover the gamut, impressing your guests with your sensitivity to changing robes according to what is appropriate to the moment.
Adding Your Logo
Popular hotels also love Boca Terry robes because of the way we customize them. Our embroidery specialists are able to create exquisite logos, emblems, and monograms that enhance an already sublime array of après dinner, swimming, and spa items. Now that most establishments have their own online or in-house boutiques, they can satisfy their customers' desires to have a robe of their own to take home and cherish. With your hotel brand perfectly embroidered on the front, you can be sure they will never forget your name or the amazing time they had when basking in your gracious comforts.
Providing the Apotheosis of Quality Control
Every Boca Terry product is inspected to a tee in order to provide the apotheosis of quality control before it gets to you. Our guarantee of a flawless garment helps to keep your reputation as elevated as it deserves to be. With every one of our workers entrained to the Boca Terry work ethic, the base of which is perfection, we will always make you proud when you introduce your guests to the joys of a great robe.
Eco-responsible Choices
With today's growing awareness of eco-responsibility, Boca Terry robes can also be ordered in 100% organic cotton. This means you can promise your guests that they are getting a completely hypoallergenic product that has been made with non-GMO cottonseeds and is absent of any pesticides or toxins. Our awareness of pristine planting methods that include old-fashioned crop rotation and other healthy growing protocols ensures that you are getting a robe that has been made with respect for the earth and its ecosystems. Additionally, our production and manufacturing processes are designed to adhere to the strictest methods for honoring the integrity of natural fibers.
Adding Greater Integrity to What You Stand For
When you can offer your guests a robe that fits in with your own Green ethic, you are providing an environment that is all of a piece. Boca Terry's organic line of robes is the perfect way to add greater integrity to what you stand for in terms of providing travelers with a health-minded atmosphere in which to relax and enjoy.
Contact Us Today
For more information on our line of exquisite bathrobes and other products such as slippers, towels, pool chair covers, and more, contact us today at: www.bocaterry.com
Share this item with friends