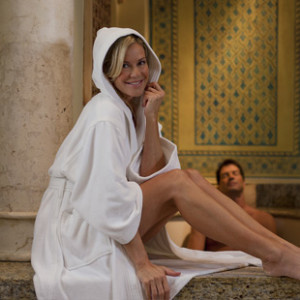 All aboard the bright, shining ship! A fun cruise over calm ocean waters on your impressive cruise line is just what your guests need to end their summer on the right note. Though, between the surfing simulator, outdoor movies, large, twisting water slides, and indoor ice skating, guests will want to make time for a little rest and relaxation during their vacation. See how Boca Terry robes will make your guests' experience even better than you imagined!
Lounging in Luxury
A cruise is the perfect time for your guests to relax. Slipping on a robe paves the way to ultimate comfort and rest. While there are some spots where it is inappropriate to wear a robe (such as the dining hall, inside of restaurants, at bars, during live concerts, etc.), there are several scenarios during which regal robe wearing will enhance your guests' vacation experience. Your guests will love to use the robe provided by the generous staff! Emulate quality and class with your brand by offering plush, soft, absorbent Boca Terry robes to your visitors!
The Reliable Robe
Robes are the perfect accessory to accentuate an excellent cruise; there is no better garb to grab for a relaxing visit to the pool, a soothing stop at one of the many, bubbling hot tubs, or to bring to the ship's spa facilities. Some guests might even throw on a robe while hanging out on the deck. Your large cruise ship is constantly moving, creating a consistent breeze; those easily susceptible to feeling cold will want to wrap up in a Boca Terry creation.
Hospitality Helps
Not all cruise lines provide each guest with a robe—many only provide robes to frequent customers as an incentive for them to return and a reward for already doing so. We believe, however, that you should provide each guest with a robe. By offering this simple, well-earned comfort to each guest, you will validate their value to you as a brand.
Forgot Your SPF? Protect Your Skin!
A Caribbean cruise means guests will be spending ample time in the sunshine. If they forget their SPF or just want extra protection from the strong UV rays, remind guests to wrap a light robe around their shoulders and waist to ward off sunburn! As your ship cruises closer to the equator, the strong sun is no match for a cotton bathrobe. Say goodbye to any chance of lobster-red legs (until the buffet line, of course).
Boca Terry's Favorite Picks
Although it is nearly impossible for us to choose a favorite, we do have a few options that we believe are great items to keep in stock. Cruise line purchasing managers, take note: your guests will be thrilled to find the following choices in their closet!
Caribbean Cruise
A cruise line's destination will help determine which style robe best suits guests. For a cruise headed to a warmer destination, it is important to provide guests with light, airy robes; heavier robes can make guests uncomfortable in the high heat of the summer air.
Kimono Waffles: This robe is just light and airy enough to cover skin from the strong sun, yet light and short enough to keep guests from getting too hot. The Kimono Waffles is one of our favorite warm destination picks.
Pink Kimono Satin Robe: Make sure you offer this robe in each room; the women on your cruise will never feel (or look) more beautiful than when in this robe! Make her feel especially cared for by offering this feminine, silky, light robe to female guests on your cruise line.
Knit Waffle Bathrobe: This robe is made from incredibly lightweight materials. It is surprisingly soft, yet much lighter than many of our robes. Best of all, it is made from durable modal fibers, meaning that this robe will last longer than many of its satin counterparts.
Alaskan Adventure
A chilly, Alaskan cruise adventure calls for a completely different line of robes. Don't make your guests wish they had booked a different cruise; ensure you provide a warm and welcoming option to don as your speedy ship approaches massive icebergs.
Hooded Bathrobe: Our number one pick for colder destinations is the Hooded Bathrobe. This robe is long enough to make sure most of guests' legs are covered, and it comes with an extra large, warm hood! Keep the heat from escaping with this option.
Micro Chamois Bathrobe: Your guests won't feel bogged down by this wonder. Our Micro Chamois Bathrobe is lightweight, yet is incredibly warm. The soft material is durable, making this robe a worthy investment that will last for many trips to come.
Microfiber with Plush Lining: This bathrobe is the perfect companion for a chilly cruise. Lined with French terry knit and armed with cozy roll up cuffs and collar, it will keep visitors warm and cozy during their adventure.
Boca Terry
We understand that quality should never be sacrificed; without quality, there is no true comfort. When you purchase Boca Terry robes, there is no need to worry about thin robes with hanging threads; there is no need to worry about cheap terry cloth that does not properly absorb water; in fact, there is no need to worry about problems associated with poor manufacturing. Our robes are well-crafted and beautifully designed with your best interest in mind. Be sure to browse our beautiful bathrobe options; we have tons of robe choices for your hot and cold cruise destination needs!
If you want to experience a completely relaxed cruise vacation, or want to ensure that your guests truly enjoy the stay hosted by your cruise line, then it is in your best bet to invest in Boca Terry robes. For questions, for wholesale pricing, or to order our robes, contact us, today!
Share this item with friends