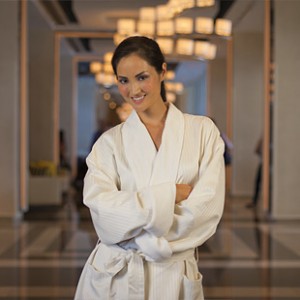 Hooded, shawl collared, kimono style, or otherwise, the terry cloth bathrobe in any style speaks of undeniable comfort. With their thick, soft, and fluffy texture, terry cloth robes are synonymous with hotels, evoking visions of lounging around a pool or a hot tub, taking long relaxing baths or showers, and generally laying back draped in a snug, luxurious robe that envelops and soothes.
As crazy as this may seem, often hotels are judged by the quality of their terry cloth robes. At Boca Terry, we are well aware that this is can be one of the criterion that makes or breaks a guest's opinion of their stay. When the robe is high quality it somehow acts as a symbol for the excellent time spent enjoying the hospitality of a great hotel stay.
When you supply your guests with luxurious terry cloth robes, you are telling them that you want to provide them with the best in service and comfort. This seemingly small gesture goes a long way, and with your logo or emblem embroidered on the front, the robe takes on an even grander meaning in its representation of exclusivity.
On a very practical level, terry cloth robes are the best choice for hotels because they can be washed over and over and still not lose their durability and absorbency. When you order well-made, high quality robes like the models we offer at Boca Terry, you are saving money.
Our robes are made to last. The thick terry pile we use is characterized by its thick, uncut loops that create a soft, lush feeling as it slides over the body. Casual yet elegant, their ability to wick moisture away from the skin is also what makes them so attractive to wear.
At Boca Terry we make our terry cloth robes out of 100% pure cotton or in a beautiful blend of cotton and polyester. Our robes are soft and sensual, and they are easily hung up to dry when it is time to do so.
Hotels that carry terry cloth robes find that they are an excellent item to sell if they have boutiques of their own. Customers love taking a robe home as a souvenir and memento of a special time away from the hustle and bustle of normal life. And when your logo is attached, this is a perfect way to remind them of where they spent their time.
Customized terry cloth robes are one of our specialties, with exquisitely placed embroidered logos, emblems, or initials on each robe in your bulk order. Using the highest quality materials, we are able to create the perfect compliment to our standard designs by adding whatever extra elements are desired in order to create unique, personalized robes for your hotel or hotel chain.
Show your guests you care about their comfort by ordering terry cloth robes. Feel free to contact us via our online form, which can be found at http://50.97.39.122/~bocaterry/contact-us or by calling 877.421.6001 to learn more about styles and special orders.
Share this item with friends