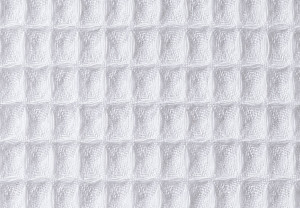 Bathrobes didn't become known as the most comfortable garments around without the help of some indispensable elements. Besides boasting a loose-fitting, yet silhouette-flattering design, a bathrobe's overall composition takes the cake for accounting for the high level of comfort offered.
Although the fabric used to manufacture a particular piece makes a large difference in how cozy the bathrobe will be, the way the fabric is sewed or woven makes an even greater difference. Think about having a large of piece of cotton cloth sewn together in an impractical manner. Sure, you'll still feel the softness of cotton, but you won't be able to enjoy it to the fullest potential.
Optimal Comfort is Always a Priority
In the hospitality industry, a customer's satisfaction is greatly dependent on their comfort level—and the same goes for pretty much all businesses. Having bathrobes ready for hotel and spa guests is one of the ways certain establishments show their clientele their attention to comfort.
With so many bathrobe options available these days, businesses have more details to pay attention to. Deciphering where the bathrobes will mainly be used, and how many will be needed are just some of the dynamics most businesses look into.
The setting in which a bathrobe will be used not only determines how long and snug it should be, but also whether or not it will match the overall ambience when it comes to its texture. Waffle bathrobes have increasingly become favorites in more than just the hospitality industry and it's not hard to see why.
Here are some of the reasons that make waffle bathrobes a must-have:
When a customer throws a bathrobe on, they should get the sensation of wearing a brand new one each time. That's a quality offered by durable bathrobes that are designed in a way that can endure several washes.
Waffle bathrobes are most widely created by weaving a cotton or microfiber fabric in a long-lasting manner. These bathrobes can be washed with ease and can take on several weights, without compromising durability. That's a reason why this fabric is also commonly used in many washcloths, too.
Bathrobes made of the waffle weave allow air to easily flow within the fabric, which in turn makes it possible for the fabric to dry at a quick rate. This is especially important when bathrobes are used in wet environments like after a bath or a swim.
The fact that the fabric can be dried with ease makes it easy to dry after laundering to have it ready just in time to be worn again. In addition, the air-circulating nature of waffle bathrobes makes them ideal for keeping cool or warm in various surroundings.
Along with having the capability to dry rapidly, waffle fabrics are also highly absorbent. This is again perfect for being in wet areas such as the beach, pool, Jacuzzi or bath.
Waffle bathrobes are therefore also ideal for use in spas where massage oils and lotions can easily be absorbed. Guests can visit the sauna or steam room with a cozy bathrobe waiting for them.
Waffle bathrobes can be stored and packed with facility thanks to their lightweight and wrinkle-resistant nature. It can be packed all the way at the bottom of a small piece of luggage without taking much space and while still maintaining its form.
These robes can also be stored with ease. Whether they're hung in a closet or behind a door, or simply folded into a drawer, there will still be enough available space for other belongings. They can even allow travelers to pack lighter since waffle bathrobes serve as a great replacement for extra towels or swimwear cover-ups.
Waffle bathrobes carry an ornate pattern woven with simplicity, which makes them classic pieces that can cater to an abundance of preferences. They can effortlessly adopt additional ornate details without looking overcrowded.
For instance, colored piping as well as other customized details, such as embroidered logos or monograms, can be added while maintaining a chic appeal. The fabric's pattern upkeeps an overall lavish look and feel.
Boca Terry's Waffle Bathrobes
With numerous years of experience in the manufacturing industry, Boca Terry has also become a huge fan of waffle bathrobes. A number of our clients order waffle bathrobes to enjoy the various benefits associated with this special fabric.
We only use the best weaving processes and fabrics in the industry to assure a quality build that can satisfy the needs of various consumers.  You can find different waffle bathrobe styles at Boca Terry, including:
Kimono Waffle – This Japanese-inspired selection features several designs and patterns. Choose among the:
Short Basic Waffle (67% Cotton 33% Poly)
Large Diamond Kimono
Multi Waffle Kimono
Basic Waffle (67% Cotton 33% Poly) Kimono
Basic Kimono Waffle with Piping (67% Cotton 33% Poly) Kimono
Seashell Waffle Kimono
Knit Waffle – Available in kimono and shawl collar versions, this luxe bathrobe is comprised of a 45% cotton, 45% modal and 10% polyester blend. Modal fibers add to the robe's extra smooth and rich nature. Modal fibers are in fact, about three times softer than cotton is, which also ensures a longer-lasting pampering sensation.
Shawl Waffle – This ultra cozy bathrobe is perfect for the spa or for any other relaxing oasis. It comes in different variations including the Large Diamond and the Basic Waffle models, which are available with or without lining.  Optional color piping and double belt loops to adjust belt height are just some of the other features that make it one of the favorites among our clients.

Contact Boca Terry for Your Waffle Bathrobe
At Boca Terry, we carry one-of-a-kind waffle bathrobe designs that undergo our quality control processes before exiting the doors of our factories. For more information about our wide assortment, and how you can customize your selection, call Boca Terry today.
Share this item with friends