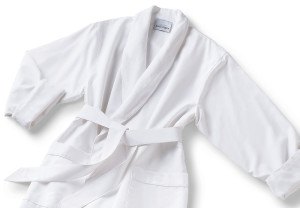 Why You Need to Get a Bathrobe This Winter
Winter marks one of the most special and festive times of the year, no matter where you reside. Regardless of how the weather is looking on your end, you'll always need to have a bathrobe near.
Over the years, the use of bathrobes has grown so versatile, that it's tough to find a place not to wear these stylish garments in. After all, what's not to love about feeling the soothing embrace of a fashionable wardrobe enhancement that can complement just about any occasion and outfit?
Set the Standard for Relaxation 
No holiday is complete without the option of being able to vacate your life of your hectic routines. Whether you choose to do this from the comfort of your home, or on an island getaway far from the cold winter temperatures, you'll find that a bathrobe is indeed a necessity.
Light the candles, prep the tub for a bubble bath, and let the unwinding begin. Just place your bathrobe close to you to wear when you're done and keep it on while you prepare for a night in or out.
Boca Terry's plush Classic Shawl Collar bathrobe comes in terry and velour variations to match your preferences. Ladies and gents can both enjoy the feel of 100% combed cotton and intricately stitched fibers. This bathrobe will keep you warm and snug whether you have the heater on or your windows open for a whisk of fresh air.
Prep for the Gifting Season 
It's no secret that winter is a time filled with holiday events, which means gift lists are in order. This year, give out gifts your recipients didn't see coming! The best part about wrapping up a Boca Terry bathrobe is that you can complement the robe with spa accessories and/or towels.
When you use a bathrobe as a gift, there are so many ways to create a unique and practical set that can be used all year long. Boca Terry's Microterry bathrobe is just one of the many sensible options from our large collection. The ultra soft microterry fabric makes for an elegant feel and appeal.
Your gift recipients won't have to think twice about ironing the bathrobe when they're on the go, thanks to its wrinkle-resistant nature. Match it with a pair of Boca Terry's skid-free, Closed-Toe slippers and thrown in some bath soaps and lotion to create a beautiful gift basket.
You might want to show your hotel or spa customers your gratitude for their business loyalty. Keep them extra comfortable this season beyond your premises. Go for Boca Terry's Velour Stripe bathrobe that features a one-inch vertical stripe pattern to give the fluffy velour a richer look.
Have a Winter Excursion Partner
Velour is not only a warm fabric by nature, it is also highly absorbent, so you or your gift recipients can enjoy the hugging softness day and night. Whether you're by the water or by the fireplace, Boca Terry's bathrobes will make you feel pampered and relieve any stress, any time, anywhere.
If you're off for some skiing or other snow sports, Boca Terry's Microfiber with Plush Lining bathrobe is a great choice to top off an eventful day in timeless luxury. This robe boasts spacious pockets to fit everything from your intriguing novel to your handy tablet. A hanger loop is also available to easily store your bathrobe.
Comfortably roll up the collar and/or cuffs when you want to. You can also adjust the belt height to best fit your silhouette, thanks to the double belt cotton loops. Choose ecru or white to complement the wardrobe you packed.
You can complete your stay at any hotel or resort with a comfortable bathrobe that will accompany you when you're out for a swim or while you're having breakfast in bed. Boca Terry's bathrobes are easy to fold and pack, so you won't have to worry about not having enough space in your luggage.
Keep the Chills Away
There are so many instances in which you can wear your bathrobe to stay warm during the generally colder winter months.  The following are some of them:
Before and after the shower
Walk the dog in the morning
Prepare meals for guests over the holidays
Work from home
Watch a movie on a night in
Lounge around the house and be lazy
Roast marshmallows by the fireplace
Walk down your hall decently to grab an extra towel
Sit out on the patio and gaze

Even while you're on vacation, you might find yourself rushing down to answer the door when the doorbell rings as you're just hopping out of the shower. Rather than stressing what you can throw on quickly, all you have to do is grab your Boca Terry Hooded bathrobe and you can avoid catching a cold.
Start Your New Year's Resolution 
You can keep warm in style and while being eco-friendly. Make 2016 an extra special year by being friends with the environment. With Boca Terry, you can go green with our organic bathrobe selection:
Organic Basic Kimono
Organic Classic Shawl Collar
Organic Lightweight Waffle

Made of 100% certified organic cotton, the different variations of these environmentally sound bathrobes are created without the use of genetically modified seeds. Moving around is easy in all styles, which are available in our wholesale and retail stores.
Personalize Your Experience
Having a comfortable bathrobe around to put on whenever you want is enough to get you in a great mood, but being able to customize the bathrobe makes it even better! At Boca Terry, you can add your very own monogram or choose from other customization options.
For more information on how Boca Terry's products can make this winter season the best one you've seen, contact us today.
Share this item with friends