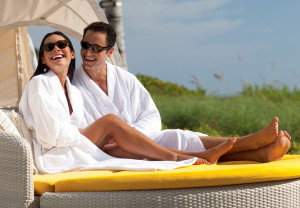 Spending a day of fun in the sun? Or are you going on a relaxing weekend getaway to vacate your hectic lifestyle for a while? Wherever you plan on going to get some serenity and a change of scenery, your bathrobe should be the first to join you. It not only replaces your need for a beach towel, but it also makes for a stylish and beyond comfortable fashion statement.
Bathrobes are the ultimate vacation companions for virtually any holiday spot. Whether you're lounging around in the facilities of a luxury resort or you're just sipping on an iced fruit beverage at the beach, having a bathrobe can make your tranquil experience so much more enjoyable. These are some of the reasons why you should bring your bathrobe with you when you're on a break:
Worry Less About How to Pack and Unpack
When you're in a rush, who wants to stress about how to make your belongings fit in a crammed space? Bathrobes are both light and easy to store. There are multiple techniques in which you can fold your bathrobe, so you can fit it into a bag of practically any shape or size.
In addition, terry bathrobes don't have to be ironed. That saves you the time and the hassle of ironing, whether you're unpacking by the water or in your hotel room.  The Basic Kimono in terrycloth from Boca Terry is a great choice to both pack and unpack with ease.
Use Your Bathrobe as a Swimsuit Cover-up
Forgot your t-shirt or dress? Even if you didn't, you can leave the extra beach clothes at home and go for a trendy bathrobe, instead. You can even pick a summery shade to match with your swimwear.
Whether you're going for a dip at the beach or a swim in your hotel's luxe pool, a trendy bathrobe is a unique replacement for your regular cover-ups. You can even get creative and customize your bathrobe with Boca Terry with detailed embroidery.
Get Full Coverage at Any Time
Who said you can only use towels to dry off at the beach? Rather than trying to make sleeves out of your beach towel, use a bathrobe to effortlessly keep dry when you're back from your swim. Everyone has those days when they wish the wind gusts weren't as strong upon exiting the water. With a bathrobe, you won't ever have to feel a wind-chill again!
If you opt for a terrycloth robe like the Microterry Bathrobe from Boca Terry, the fabric absorbs moisture, which will keep you warm and snug. Goodbye, oversized towels!
Prevent Sunburn from Getting Worse
When you get a little too ambitious with tanning and start feeling the burn, a bathrobe can come in handy to prevent your sunburn from getting more severe. You won't have to look silly taking cover with two beach towels, either.
If you forgot your hat and feel like your face and head may be taking in too much of the sun's rays, wearing a hooded bathrobe is a good option. Try Boca Terry's Hooded Bathrobe in terry or velour. Just throw it on and stay in the shade to avert the embarrassment of turning as red as a tomato.
Be Prepared for Unpredictable Weather
Even the best vacation spots around the world can sometimes be prone to a sudden change in weather¾one minute, it's blindingly sunny and the next, it starts pouring! Getting drenched unexpectedly is never a fun situation.
With a bathrobe, you can easily dry off and recover from the rain. Try Boca Terry's Basic Kimono in 100% combed cotton terry or velour for an ultra-soft fit. You can use the bathrobe's generous pockets to safeguard items like non-waterproof electronics that can get damaged from the rain.
Wear Your Bathrobe for Privacy
You never know when you might get an unexpected visitor, or, you may be the visitor yourself, vacationing at a friend's guesthouse. Whatever the case, if maintaining privacy is on your mind, a bathrobe long enough to cover up can help with that.
You won't have to hide behind the door or run to grab the nearest garment when you hear (or don't hear) a sudden knock at the door. Boca Terry has a wide selection of long bathrobes that can assist you in getting out of being in an uncomfortable situation.
Turn Your Vacation into an Ongoing Spa Retreat
Wherever you are vacationing and whomever you go with, bathrobes are ideal for making you feel like you never left the spa. You could be going on a single's trip or vacationing with your significant other. Either way, wearing a bathrobe is always great to keep the aura of tranquility going.
If you're having a girl's night in, you can do all the girly things from facial masks to manicures and pedicures with a more comfortable bathrobe, instead of wearing pajamas. It'll feel like the spa came to you no matter where you are.
Feel Like You're Always on Vacation
Your comfort should never be compromised especially when you're out-and-about. If you're soaking up the sun at the beach or resting in a picturesque setting, a bathrobe will have you covered (literally).
Make sure to choose the right one for you. At Boca Terry, you can pick from our vast collection of high-quality bathrobes no matter where you are. Contact us today to find your next excursion-ready bathrobe.
Share this item with friends