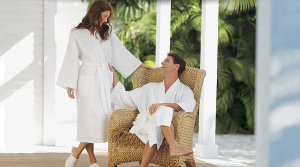 We understand that there are quite a few wholesale towel and robe manufacturers on the  market. However, we strive daily to ensure that Boca Terry is the best possible combination  of quality and affordability. Want to know the reasons that you won't regret buying Boca  Terry products? Then, you've come to the right place:
 Top Quality Products
With so many companies claiming that they offer quality products, it can be hard to  separate fact from fiction. However, when we say quality, we aren't kidding. In fact, Boca  Terry offers the highest quality wholesale product options on the market. We have over 50 years' worth of combined manufacturing experience, so it is safe to assume that we know a thing or two about product manufacturing.
Plush, absorbent, and flattering on all body types, our fabrics, materials, and finished products are subjected to a rigorous testing process to ensure that they will last through a high volume of washing processes. They have been designed to come out looking and feeling as new and fresh as they did on their arrival.
Affordability
It is sometimes hard to believe that the highest quality wholesale products on the market are also affordable. However, this was written into our business model from the start; we understand the importance of reliability, especially when it comes to wholesale ordering.
Fast Shipping
Because we have shipping centers all over the United States (and some outside of the country as well), your products are almost never far away!
When managing a hotel, country club, hospital, cruise line, or any other facility, it is important to obtain needed products as quickly as possible; because we understand this, part of our commitment to you is fast shipping.
Reliability & Customer Care
There is a reason that our sweet Robe Report interviewees tend to say they would recommend our brand. We are committed to reliability and customer care. When we say promise an item, we stand behind it; when we speak with customers, we want to make sure that we meet their expectations.
A Variety of Items
As a leading name in wholesale bathrobe and towel manufacturing, we made it a top priority to refrain from offering only a single bathrobe option. Instead, we offer over 40 styles of our Bathrobes in extended sizes, made from conventional and 100% certified organic cotton. However, our variety is not limited to our bathrobes — we also offer two distinct towel collections, three different styles of slippers.
And a Variety of Uses
The products that we offer fulfill a number of uses for companies across several industries. In fact, no matter what industry you serve or what climate you reside in, our experts can assist you in choosing bath and spa accouterments that are not only well suited to your clientele, but are worthy of your brand and well-matched to your purpose.
For example, we do not simply offer plush, warm bathrobe options that are great for wintertime, or cold climates — instead, we opted to also offer lightweight options that are well suited for warm climates or the late spring and summer seasons.
We Will Work With You
If you find yourself with a need for a solution that we do not already offer, then we will work with you to discover the answer to solve your unfulfilled needs. For example, when an environmentally friendly hotel came to us asking for an organic robe and towel, we did not immediately have a product on hand; however, that did not stop us—we worked with the brand to create an option that was exactly what they wanted.
In the end, we produced a robe collection crafted from recycled plastic bottles. Not only were these robes the environmentally friendly product they had sought after, but they were also a high quality, incredibly soft solution.
Customization Opportunities
One of our client's favorite parts about Boca Terry is the possibility to customize. Not only can you embroider your logo onto a freshly manufactured robe, but you can even customize it further. Opening a natural spa? How about customizing robes with a pretty leaf pattern on them?
Promotional Products
Because customization is so easy with Boca Terry, our products are perfect for promotions. Add your name, logo, motto, or anything you'd like. Then, offer high quality towels and robes as a door prize at your next special event. Heading to a hospitality trade show? You won't want to forget robes samples with your beautiful logo on them. Go ahead and gift them to the first visitors that visit your booth — they really are that affordable.
Boca Terry is Better Terry
If you are interested in Boca Terry's products, browse our collection of products the find those that best suit your needs. For wholesale pricing, or to order wholesale, contact us today!
Share this item with friends