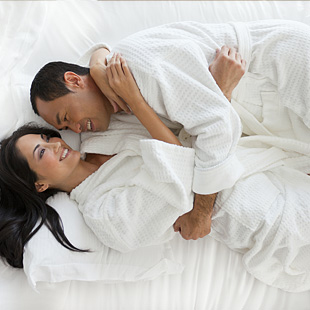 We all know how important a first impression is when it comes to confirming the attributes of your brand. It is not enough to have a welcoming concierge, a gracious entryway and a beautiful view. Every single detail of your bed and breakfast must speak of your meticulous attention to detail, and nowhere does it count more than in the bathrobes you provide for your guests.
The Importance of a Good Bathrobe
It is proven that the best reviews for bed and breakfasts, hotels, spas, and resorts almost always include a tipping of the hat to the robes they supply. Like with any outfit, a perfect couture dress or $4,000 suit can be nullified by a pair of bad shoes. And worse, going to the opera in fine raiment without shoes does not a good impression make! When you choose any one of Boca Terry's impeccable luxury bathrobes, you are in effect selecting the shoes that complete the look.
It's All in the Details
Like you, we are rigorous about making sure that every detail is right. We start from the beginning, with exigent standards for production and manufacture. Every piece that leaves our factories has been tested for the utmost in quality, and we leave no fabric unturned. Each stitch made, each fiber woven is a testimony to our dedication to the best practices found in the industry. We know that our reputation is on the line when it comes to yours, and our mission is to ensure that no one is ever disappointed.
Understanding the True Meaning of Luxury
Passing the test for quality, durability, comfort, and innovative styling are what have made Boca Terry the number one company for robes and towels in the classiest hotels, resorts, spas, and bed and breakfasts worldwide. Our high ranking is because we are consistent and because we understand the true meaning of luxury and deliver it every time.
The Luxury Bathrobe as Metaphor
Finding a beautiful luxury bathrobe in your room upon arrival is the moment when you really know you have arrived. Now you can shed the garments of the quotidian world, take a shower or jump into the pool, and then drape your skin with an emblem of the time you will spend away. A good bathrobe is a grand metaphor for taking on that second skin, and in the case of your bed and breakfast, it is one that will conform to all of your exceptional amenities geared towards rest and relaxation.
Adding to Your Prestige

Following in the footsteps of the best hotels, spas, and resorts around the world, ordering a Boca Terry bathrobe adds to your prestige. We carry a wide assortment of styles and weights in our inventory, all of which can be ordered as they are, or customized with your logo, design, and colors.
Ordering Various Styles
We find that one of the most effective ordering techniques is to provide varying styles that match the different activities you offer in your bed and breakfast. If you have a spa service, you want to supply your guests with lightweight robes that help the skin absorb emollients. If you have a pool, you want a robe that quickly wicks away moisture while drying rapidly itself. If you cater to newlyweds or hold bridal parties, you want to make sure you have satin bathrobes on hand if they do not require a special order.
Making an Impression
Additionally, you want to order robes that are appropriate for the season. Boca Terry luxury robes come in a variety of weights, appropriate for warm and cold weather. Your guests will certainly notice the difference, especially those that return at varying times of the year, and it will make an impression as they pass their positive comments on to their friends.
Economical Wholesale Prices
Most of our luxury bathrobes are made in one-size-fits-all, but it is also common for us to receive requests for plus sizes. Except for some of our satin models, our robes are uni-sex, making it easy and economical to make your bulk orders.
The Pink Kimono
A few examples of what we provide start out with our extraordinarily elegant Satin bathrobes. Designed for comfort, luxury, and elegance, we have a model created for women that highlights femininity with its T-shaped line and pale pink hue. The Pink Kimono is a wonderful robe to commemorate a special event, such as a bridal party or girls' weekend away.
The Satin Stripe
Our Satin Stripe for men and women comes in kimono style or with shawl collar that includes cuffs. Both are lined with French terry knit comprised of 80% cotton and 20% polyester, along with double belt loops for waist adjustment, and a convenient loop for easy hanging to dry.
The MicroFiber
The MicroFiber bathrobe is also lined with French terry, along with the attributes of the above. Here the shell is made of 85% polyester and 15% satin, with an 80% cotton, 20% French terry knit lining. This is a wonderful robe for cool evenings. When the weather gets warm, you can then have our lighter Microtec or Micro terry styles on hand.
Our Terrycloth Robes
Often considered generic, a terrycloth robe is not just a terrycloth robe at Boca Terry. Instead, we use a thick, generous pile with uncut loops to create the ultimate in coziness. Able to wick away water quickly while still remaining warm, you can order a model in 100% cotton or blended with polyester. Customize it with your logo or design for an extra luxury look and you have a robe that guests will be talking about until their next visit.
The Fleece Kimono
Consider our exceptional Fleece Kimono style, a perfect addition if your bed and breakfast is located in wintry climes. Made of 100% polyester, this hooded, Asian style bathrobe keeps you feeling warm and protected as you sit by the fire, sipping a tea or brandy.
The Waffle Bathrobe Line
One of our most popular styles for bed and breakfasts is our Waffle bathrobe line. Elegant and graceful, men and women feel proud to wear any one of the variations on our theme.
The Knit Waffle
Our Knit Waffle robe is created in a kimono or shawl style, each model is made of 45% feather soft modal fibers, 45% cotton, and 10% polyester. Weighing almost nothing, the waffle weave keeps the body warm without creating bulk. Each square functions as a caress, drying the body while maintaining essential moisture within, which makes these robes perfect for spa treatments.
The Kimono Waffle
The Kimono Waffle is made with large diamonds of 100% cotton, or 67% cotton, and 33% polyester. It can also be ordered with a Seashell waffle design and special ordered with optional colored piping.
The Organic Lightweight Waffle
The Organic Lightweight Waffle is made of 100% certified cotton. These natural fibers create an extra sensuality and are ideal if your bed and breakfast is dedicated to a holistic ethic.
Contact Us
No matter which bathrobes you choose, Boca Terry will supply you with everything you need to complete your image as a luxury bed and breakfast that caters to your clients' every wish and need. For more information on our impeccable styles, please contact us through our online Contact Us page.
Share this item with friends