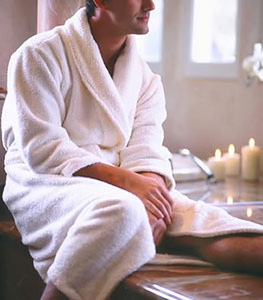 If anything can be called signature to a good holiday vacation, it is a bathrobe. Symbolic of luxury and ease, wrapping yourself in a good robe is the essence of laying back and getting away from the humdrum daily life.
Attention to Detail
At Boca Terry, we believe that the bathrobe is the perfect representation of the kind of quality you deliver at your hotel, bed and breakfast, or spa. Providing guests with just the right robe for lounging, for poolside, and for massage and other beauty treatments counts a lot with guests as they notice your attention to detail.
Standing Up Under Duress
A good bathrobe is easily recognizable by discerning guests. It should embody style, comfort, great craftsmanship, and durability. Because robes go through hundreds of washings during the course of their lifetime, it is important that the materials you choose can stand up under duress.
A Stellar Experience
As the symbol of being in the lap of luxury, a thick terrycloth robe or a fine satin wraparound can mean the difference between a ho-hum stay and a truly stellar experience. Guests love bathrobes they can sink into, like our sumptuous hooded terry with large, ample pockets and a perfectly looped pile that soaks up every drop of water while providing every bit of movie star glamor that anyone would want.
Impeccable Research and Development
Boca Terry has been in the business of providing the hospitality industry with exceptional robes for many years, and we never stop growing with our impeccable research and development. With our Microtec robes, as well as our 100% organic cotton beauties, we are proud to stay ahead of the curve when it comes to designing with fabrics representing an eye towards Green ethics.
Showing You Care
Additionally, we believe that providing custom robes is the perfect way to show your guests that you care. Whether it is the addition of a logo or a design that encapsulates the essence of your brand, or the inclusion of the initials of your wedding party guests, a little bit of attention goes a long way.
Keeping Your Brand Front and Center
There are ordinary robes and there are extraordinary robes. Boca Terry believes that an investment in our exceptional designs will give your guests an experience they will never forget. With many hotels and bed and breakfasts offering their robes in their online stores, this is another way to keep your brand front and center, providing people with a way to give the gift of a special robe, as well as to celebrate their perfect stay at your establishment.
Creating a Memorable Experience
When it comes to the amenities, we at Boca Terry believe that you should never stint. Offering exquisite fabrics at prices you can afford, we want to help you to create a unique and memorable experience for every guest that passes through your portals.
Contact Us
For more information on styles and wholesale pricing on robes your guests will love, contact us today! We can be reached through our online form or by phone at (877) 421-6001.
Share this item with friends