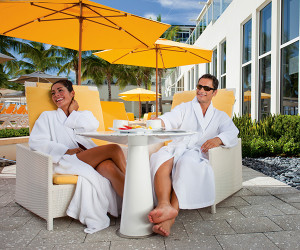 Hotels and those in the hospitality business have a lot of competition. Just think about it! If you go to a big city or any surrounding towns, you will see hundreds or even thousands of hotels—local and franchised—vying for business each night.
Take this for example: Trivago is a popular booking site that boasts access to 713,124 hotels around the world. That's a lot of hotels, for sure. But, take this into consideration. In New York City alone, they offer booking with 1,425 hotels within 10 miles of the center of the city.
Wow. That means that competition is beyond fierce. It is fiery. Say you were just one little local hotel in a sea of 1,425 others. How do you get noticed and branch out to find new customers?
Hotels, it's time to step up the advertising and marketing game. Not sure where to begin? Get started with these promotional ideas:
Email Newsletters and Promotional Material
Let's be honest—a lot of people don't like email campaigns where companies only talk about themselves. So, don't do that. Talk about current events and industry news.
If you are clever enough with your email campaign, you might be able to create and distribute shareable content that subscribers can relate to and engage with. If you can get a few shares of a great article on social media, you have the option of reaching a larger audience. All it takes is one or two great articles to start to really make a name for yourself.
Meanwhile, throw the dog a bone. Give them a deal to thank them for being subscribers and urge them to book through your site. Also, you might want to consider emailing special holiday or anniversary promo codes your subscribers can enter at checkout. This will make them want to travel for the next special occasion, and they will probably be more likely to book with your establishment at that point!
Online Promotional Services
Promotion, in general, is a compelling force to persuade your target audience to book with your hotel. Sometimes, you can't do this alone. Have you ever considered reaching out to professional networks or marketers for help?
For example, think of promotional deal websites, such as LivingSocial and Groupon. These websites partner with companies to offer their customers great deals on various items and services. In return, those companies experience heightened attention and a larger audience.
They also have a vacation and getaways section to help identify and book excellent deals on hotel rooms or excursions in various locations. Why not give it a spin? This typically works out quite well for the businesses, promoting their brand name and gaining attention through exposure—all of which is a great way to obtain new customers.
Offer Promotional Products
Promotional products can do a long way for businesses looking to gain attention. Promo products can be offered to returning visitors, to attendees at a tradeshow, at community events, or just to passersby.
Promotional products can be as simple as a pair of bargain sunglasses with the company name written on the sides, or as extravagant as a plush bathrobe or durable towel with the company's logo embroidered. They work well because they deliver a tangible application to your audiences' lives. When they feel or see or use that product, they will remember exactly where it came from: your hotel. Make a statement with your promo products. Here are some of our top promotional items:
Bathrobes are an excellent solution for promotional needs. They are highly desirable and easily customized with an embroidered logo or monogram. You can even put the customer's name on it, ensuring that they will feel a sort of ownership over their new gift. These are a few of our favorite bathrobe options for promotional embroidery or customization:
Nothing says elegance and luxury like this extravagant bathrobe. Available in multiple colors, it represents your brand loud and clear.
Basic Kimono. We have said it before, and we will say it again. This classic kimono is anything but basic. It is a simple solution to your promotional needs, and the popular cut and simple color scheme work well for any recipients.
Towels are a great statement piece for hotels. They tell the consumer a lot about who you are. Think about the hospitality industry. Towels play a large role in this. Whether your hotel is at the beach or has a pool or several hot tubs in the facility, towels are a must-have at a hotel. Needless to say, many hotels are known for their freshly cleaned, plush towels in the private bathrooms, as well. Customizing towels as a promotional item is a great go-to plan.
Boca Terry: Betting Your Promotional Campaigns
If you are ready to blow your audience out of the water, it's time to get started on your promotional campaign. Use our tips to get started! If you have questions about wholesale pricing, or to place your order with Boca Terry, contact us now!
Share this item with friends