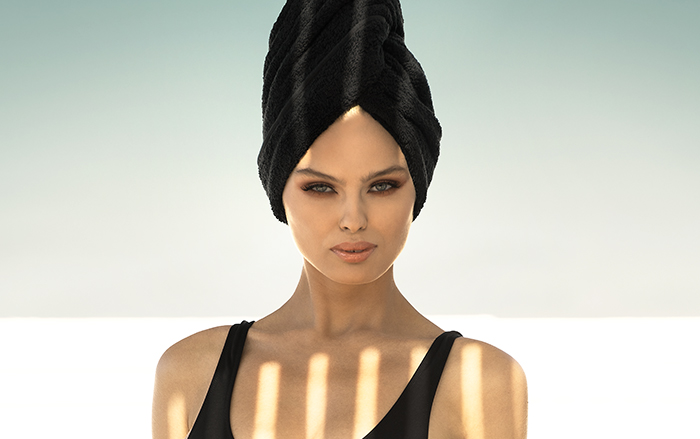 It has been said that beauty is in the eyes of the beholder – and what better eyes than our own, for that matter! In this day and age of constant productivity and deadlines, self-care has become a priority and a necessity if we are to continue giving the best of ourselves. While the simple routines – the bath, facial and hair masks – that once seemed overtly self-indulgent have become more of a completely acceptable norm, we at Boca Terry like to take things to the next level as far as beauty, luxury and self-care are concerned. Hence the idea of luxurious rituals: an unashamedly self-indulgent approach to the finer things in life, all in the name of luxury and comfort.
Our high-end product lines ensure the most luxurious experience outside of your favorite five-star hotels and spas. Treat yourself or someone you love to the ultimate indulgence of a luxurious self-care ritual at home accompanied by some of our finest bathrobes and towels.
Accentuated by an elegant woven pattern and handcrafted from cotton and modal fibers, the Knit Diamond bathrobe is the epitome of elegance and quality. Incredibly soft and shapely, the robe resists every wrinkle making it the perfect companion to reign over it all. It features generous pockets and double belt loops, ensuring functionality as well as high performance.
One of the major pain points of a complete, full spa-at-home day is "the mess" associated with it. Our highly absorbent – crafted from 100% combed cotton terry – and versatile Resort towels take care of just that! Lightweight and featuring an overall check pattern, the towels come in 5 sizes for a range of uses at home or in the hotel suite.
Luxuriating is the only option in this velvety, ultra-soft micro chamois bathrobe. Simultaneously lightweight and warm, remarkably soft, but also highly durable, this robe is the perfect companion for all the daily body-care routines and life-enhancing rituals we believe in. The micro chamois robe is luxurious to step into after a shower, a relaxing bath, for breakfast and whenever there's a moment in the day for you.
There's nothing quite as comforting as the embrace of a soft, plush towel after a long, restorative shower. Crafted from 100% combed cotton terry, our highly absorbent Sunny Lane towels combine comfort and practicality and are perfect for all your personal care and beauty routines.
Perhaps all the self-care you need is the silky feel of an undeniably feminine Satin Kimono Robe. Start your morning and end your day in this remarkably airy, sensuous robe designed to make the wearer feel pampered, playful and sexy. Remember that beauty comes from within.
Your luxurious ritual is not complete without our coveted velour headbands. You'll find yourself reaching for it before applying make-up, giving yourself a facial, or even making a cup of coffee. Keep your hair clean and avoid unnecessary messes while performing all sorts of skincare rituals. Spa Tip: Choose a headband fabric that matches your Boca Terry bathrobe!
Share this item with friends