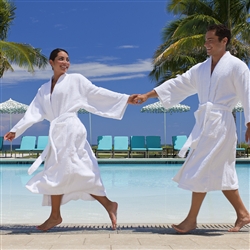 There's nothing like curling up in a warm bathrobe on a cold winter evening with a cup of hot chocolate and a favorite book or movie. Men as well as women appreciate the feel and warmth of a robe that envelops them in comfort when the wind is blowing and the snow is flying outside. There are several different fabrics that offer warmth, luxury and functionality in even the coldest climates.
Wool
Wool is often the first fabric that comes to mind when considering the warmest bathrobes available. It is naturally heavier and bulkier than other fabrics, which helps it retain heat well. However, wool easily holds water, which can be a major drawback. Most bathrobes aren't 100 percent wool, but instead are combined with cotton or polyester and similar synthetic materials to create a fabric that is comfortable to wear.
Flannel
Flannel also holds a well-deserved reputation as a cold-weather fabric. Although flannel has often been seen as old-fashioned, bathrobes made today from this fabric can be as sleek and sophisticated as any silk or satin robe. Flannel traditionally was manufactured from wool but now is often blended with cotton. The fabric's napping, or fuzzy surface, which can found on one or both side of the cloth, helps flannel keep the body warm. Flannel robes feel comfortable to the skin and are a popular way to help a person stay warm in a cold area.
Chenille and Fleece
Chenille and fleece robes are similar to wool. Chenille is a French word for "caterpillar" and refers to the fuzzy appearance of the fabric that comes from its construction of short, thick strands of materials such as cotton or acrylic. The nubby texture of this fabric creates a bathrobe that is warm as well as soft. Fleece, a closely related fabric, also holds body heat well due to its absorbent qualities.
Velour
Velour is one of the best bathrobe fabrics for cold climates as well as one of the most popular today. The knitted material
is usually made of cotton or polyester and keeps the body very warm on particularly cold nights. The fabric feels almost as luxurious as velvet. Most velour is treated so that it can be easily cleaned.
Microfiber Fabrics
Microfiber fabrics have been used by sportsmen and outdoor enthusiasts for years and are now often used in bathrobes and sleepwear. These textiles are constructed of synthetic fibers such as polyester and nylon. Developed to wick away moisture and help people retain heat in cold temperatures, microfibers are finding their way into consumer clothing today. Bathrobes constructed of microfiber fabrics feel very soft against the skin.
It's easy to find products made from the best bathrobe fabrics for cold climates through an online retailer. One example of a retailer of luxurious bathrobes is Boca Terry, which sells luxury bath and spa products such as towels and bathrobes through its website at Bocaterry.com. Anyone looking for the perfect bathrobe for chilly evenings can also contact the company by calling the toll-free number, 877.421.6001 x210 or the direct number at 954.312.4410. Orders also can be faxed to the company's toll-free fax number at 866.530.9743.
Share this item with friends