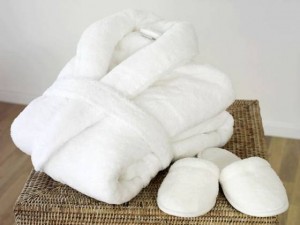 One of the beauties of giving presents lies in the fun that you can have creating your own gift baskets. There is nothing lovelier than something that has been made or put together by your own hands, and this personal touch goes a long way in saying that you care.
Fitting Any Occasion
No matter what the occasion, a custom gift basket fits any situation. Whether you are arriving as a guest to a friend's home, celebrating a birthday or anniversary, or paying homage to any one of the wonderful holidays that appear during the year, a personalized present is always welcome and appropriate.
A Touch of Magic and Charm
When you know the taste and preferences of the recipient, it makes it all the easier to choose items to fit into a basket just for them. At Boca Terry, we have advised countless individuals on how to create a robe and slipper gift basket for baby showers, engagement parties, birthdays, Mother's and Father's days, and other occasions where a touch of magic and charm will bring smiles all around.
Here are a few ideas on how to put together the perfect items in order to create more joy for the ones you care about:
Sensuality and Sophistication
This gift basket is one we always recommend as a great present for your best girlfriends. Choose our gorgeously styled Pink Kimono Satin Robe that wraps and flows to highlight anyone's figure. Falling just above the knee, this Asian-inspired robe is perfect for lounging around the home or taking on a romantic weekend getaway with a significant other. In one-size-fits-all, the Pink Kimono is feminine and graceful and just right for anyone needing a little extra boost of delight. Match the robe to a pair of Boca Terry slippers that will make your girlfriend feel like she is walking on clouds. We like to pepper the basket with various top-tier cosmetics. Perhaps a great mascara and eyeliner wrapped in their own little packet. A shampoo and conditioner from a great hair care company can go in there, along with a pretty adornment for an up-do.
Green to Go
This is a wonderful gift basket idea that reflects eco-conscious awareness, which is fast becoming the strong trend in every facet of life today. Here you can pair our 100% cotton terrycloth robe with a pair of slippers to create the perfect holiday gift for a male or female. Choose our Kimono style, a shawl collar with roll-up cuffs, or the classic standby, the hooded terry, and you'll be making somebody very happy. Add bath products from a high-end company, such as a pure olive oil soap, a loofah or back brush, and a moisturizing cream for after the shower. One of our pure cotton towels makes another great addition, completing a package that is already stunning.
Head for the Beach
A Boca Terry Waffle Weave robe is just the thing for a gift that goes a long way, especially if you give it for Christmas. Nothing can be more appreciated than a robe that speaks of vacation dreams, and our Waffle Weaves add just the right amount of absorption and glamor after a long swim in a divine ocean somewhere where the Mai Tais call. Add to this a bottle of good sunblock, a great sun hat, and a good book that will highlight you on the lounge chair, and you'll be completely on the right track. Our Waffle Weave bathrobes come in various styles and are designed with an attention to detail that makes them a stand out in any locale. Combined with our cushioned terry slippers, the recipient will have all she or he needs to relax in style.
Choosing the Right Basket
We don't want to forget to remind you that choosing the right basket is also key when it comes to creating an impeccable gift. A sturdy one that can be used later as a laundry hamper, bathroom sundry holder, fruit basket in the kitchen, or otherwise, will allow your gift to do double duty. Here are a few links where you can find some great baskets in a range of sizes. Make sure you choose the dimensions that correspond with the presents you wish to give so that the basket looks full and sumptuous.
You can always add flowers or plants to fill up any excess space if you have miscalculated:
http://www.creativegiftpackaging.com/
Bring Out Your Inner Artist and Decorator
Creating a robe and slipper gift basket is both fun and rewarding. Bring out your inner artist and decorator as you find ways to express your feelings through this special gift. Use your imagination as you combine sumptuous and practical items with one of our luxury robes and you will be on your way to helping make a special day even more so.
Here are some tips on making your own gift basket:
http://www.morestylethancash.com/2009/11/make-inexpensive-gift-baskets-that-look-expensive.html
http://www.wikihow.com/Make-the-Ultimate-Spa-Basket
Create a Beautiful Embroidered Logo or Design
Add an extra element to your present by having our design experts help you create a beautiful logo or design that can be embroidered and placed on the front of the robe and the tops of the slippers. Personalizing your gift in this manner is an act of love and friendship that will go way beyond what is expected.
Our Online Catalogue
Take a look at our online catalogue to find the perfect robe for your occasion. With men and women's robes to choose from, you will have a wide range of options in terms of style.
Contact Us Today
For more information on putting together your special gift basket, as well as consulting with our Boca Terry professionals, contact us today. We will be happy to help you commemorate and honor a special day and a special person in any way we can.
Share this item with friends