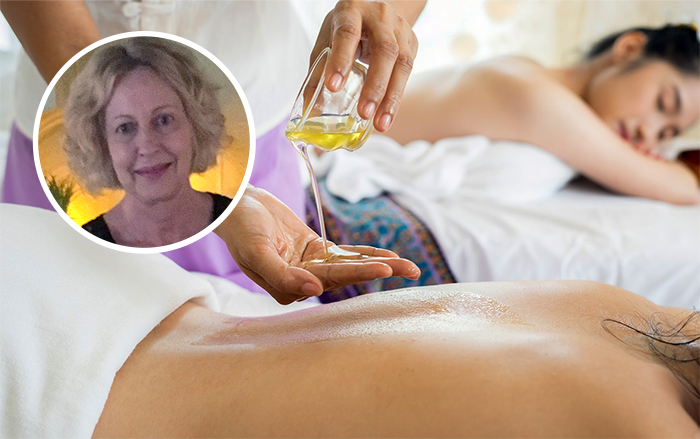 While any spa can offer momentary relaxation, only a first-class luxury spa can deliver a memorable, holistic experience that stimulates all senses and continually surprises you. As Director of the Awakening Spa at the Anderson Ocean Club & Spa, Jeanne Smith takes on this challenge each and every day. At Awakening, the overarching belief is that "regular relaxation is part of a healthy and happier lifestyle…" Located on the Grand Strand in Myrtle Beach, South Carolina, the Anderson Ocean Club & Spa is an upscale, family-friendly resort that offers a "higher level of comfort" with 200 feet of outdoor water features, an indoor pool, a fitness center, and beachfront access. And on the 4th floor of the Anderson, guests can indulge in a "self-care escape" at a first-class luxury spa.
Featuring an array of soothing spa treatments as well as Boca Terry's luxury spa robes, Awakening Spa is the #1 Spa in Myrtle Beach (via Trip Advisor) and one of the Top 100 Spas "Loved by Guests" on Hotels.com. To what does Jeanne attribute these fine accolades? Well, we sat down with her and asked her to share her secrets to running a successful spa.
BT: Hi Jeanne! Every year the hospitality industry rethinks and redefines the luxury experience. In your mind, how can spa owners guarantee that their customers always feel luxurious?
Jeanne: Details!! Luxury means self-indulgence and surrounding yourself with sensual things: aromatherapy, lighting, music, a robe that hugs you, big ceramic mugs filled with organic tea, beautifully infused beverages, etc. Presentation is also huge, whether it's a perfectly presented robe in a locker or the look of the massage tables in the treatment rooms.
BT: Of course, the guest experience begins not on the massage table but at the front desk—when your guests first arrive on the property. What is the secret to delivering superior service from start to finish?
Jeanne: It actually begins on the phone, when our guests first book their appointments, and it doesn't end until their time with us is completed. From the outset, our customers know that our primary goal is to create a memorable experience for them. We're fortunate to have cultivated a wonderful, talented group of people to represent Awakening and their sincerity and love for what they do come through in the client's entire journey.
BT: How does the Anderson Ocean Club and Spa differentiate itself from the competition?
Jeanne: Anderson Ocean Club and Spa is one of the few luxury properties in Myrtle Beach. Time and again, our guests sing the praises of our staff for personalized attention to their needs and for our well-appointed rooms. Having a gorgeous oceanfront property certainly helps, too!
BT: Has the Awakening Spa undergone any changes since you took on your current role?
Jeanne: When I took over as Director, the spa had a sauna room. As our business increased, I found we were turning guests away due to lack of resources. I decided to convert that sauna room into an additional treatment room, and our revenue increased by 5%. Since we are a boutique spa—and because the Anderson has pools, whirlpools, and an amazing beach (a.k.a. a natural sauna)—I didn't think it would be missed, and we benefit more from the additional revenue!
BT: Tell us about the unexpected amenities at your spa that take your guests by surprise.
Jeanne: Although not a true amenity, our mineral bath is an unexpected enhancement option for our guests. Couples, in particular, love our "Reconnect" package: a half-hour soak in Mediterranean Sea salts in a spacious, private, candlelit room. Add champagne and truffles, and you've crafted a truly romantic experience.
Our locker room amenities include oversized showers with rainfall showerheads and luxurious Deep Steep Organic body products. And when we set up lockers for our guests, we always tuck an affirmation card into the belt of our beautiful Boca Terry robes. We hope to set the perfect tone for each guest.
BT: After your customers leave the spa, how do you recommend that they continue their self-care at home?
Jeanne: Since we cater to so many luxury spa clients, we remind them of the importance of massage and regular skincare when they get home. We really try to highlight the importance of self-care and self-love; both are beneficial to your mental and physical health. The Anderson features numerous retail products that can be stashed away in a carry-on; we also offer to ship anything that you're unable to take with you.
BT: Are there some easy ways to transform your bathroom at home into your own "self-care escape?"
Jeanne: For an at-home luxury spa experience, before taking a bath, use an Asian body brush to stimulate the lymphatic system and exfoliate at the same time. To amp up the bath experience, add aromatherapy, bubbles, and candles. Pour yourself a hot mug of tea (or a glass of wine). Use this quiet, peaceful "me time" to meditate while listening to music. A hair mask and face mask while soaking adds to the spa experience. And, of course, you want to have a warm, comfy robe waiting for you after applying your favorite lotion.
BT: Do you offer your guests any Boca Terry products while they're in your care? Is there a particular robe you love to wear after you get your own hot stone massage?
Jeanne: When it came to choosing a robe, we had specific requirements. At the top of the list was a luxurious look and feel at a reasonable price. We also didn't want it to be too heavy since laundry expense is calculated per pound. We were looking for a wrinkle-resistant robe that holds up over time, doesn't fade, and doesn't pill. After several intense months of sourcing and sampling robes, Boca Terry's Satin Stripe bathrobe fit the bill, and we're very pleased with the number of clients who want to take one home with them. Our retail profit has increased exponentially, as it's one of the most valuable items we sell.
Jeanne: And the Waffle Robe, though a more delicate fabric, is one of the coziest robes we've ever experienced.
BT: Thank you, Jeanne! We feel refreshed already. You can book your Awakening Spa appointment now and obtain additional information here.
Share this item with friends