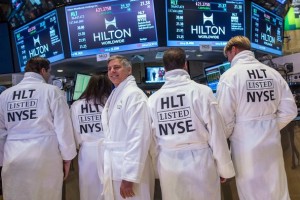 Marking a significant achievement in private equity math, Hilton Worldwide Inc. surpassed the expectations of their debt by raising $2.3 billion on Thursday, December 12; their first trading day on the New York Stock Exchange (NYSE).
To understand their return to the public stock markets, private equity and real estate firm Blackstone Group LP turned Hilton into a private company before the stock market crash of 2007, and at a time when the hotel industry was suffering. Engineering their investment like the purchase of an home, Blackstone's approach allowed Hilton to weather the financial downturn by restructuring their debt, which kept them afloat as the world's largest hotel operator.
A long-time partner of the Hilton hotel group, Boca Terry felt compelled to help their industry counterpart celebrate in style with soft, embroidered robes, tastefully stitched with their emblem on the NYSE. Aside from the personal gratitude of Hilton's choice to use Boca Terry robes for this occasion, Boca Terry believes their resurgence to the public stock market signifies a positive upswing in the hospitality industry.
"We specifically designed these robes for the Hilton hotel group to congratulate them on their new beginning," said Bruce Cohen, President of Boca Terry. "We're delighted that Hilton wanted to use Boca Terry Robes to display their achievement to the world — looking great, guys!"
Looking forward to working with Hilton again in the future, the Boca Terry team would like to wish Hilton the best on their endeavors!
Share this item with friends