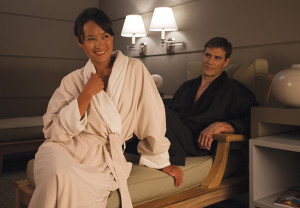 A bed and breakfast offers homeowners like you the unique opportunity to dive into the hospitality business without ever leaving the comforts of your home.
What are some of the benefits of becoming a bed and breakfast owner? You are able to live in a beautiful old house and meet hundreds of new and interesting people. Best of all, you are paid for it. If this sounds exciting, you might want to consider this line of work.
However, keep in mind that an important part of running a successful bed and breakfast is having the ability to keep customers happy, comfortable, and well fed. Here are some tips to improve your guests' experience beyond what they can imagine:
Think Locally
There are so many ways to think locally when it comes to your bed and breakfast. In most cases, you'll want your theme to be inspired by the local atmosphere.
For example, if your bed and breakfast is in Key West, you might have a cute beach theme. If you are located in Colorado, you might want a western, cowboy-inspired theme. If you set up shop in Maryland, you opt for a sailor-inspired theme.
If it sounds cheesy, that's because sometimes it is—but that is exactly what a lot of travelers are looking for! They want to feel and truly believe that they are experiencing a new region to its fullest, stereotypes and all.
       Use Local and Organic Ingredients
This idea is great, as it supports the local economy while also giving visitors a feel for what the region offers. By using organic ingredients, you might draw a larger crowd than nearby bed and breakfast establishments. More and more, the public is growing aware of the benefits of eating locally and organically. If you support that effort with your establishment, others will be compelled to support you! In fact, that could be just the right thing to set you over the edge—in a good way.
Design an eye-catching cute menu that displays where the ingredients in today's breakfast were sourced. Finally, you can put together a recipe book so that your visitors can remake the same dishes once they return home. Service is your top priority, and your guests will see that.
     2. Improve Your Property
Unless you are willing to buy new property, you can't really do much about your location. Once you're there, you're there. However, you can always play up your own property. If you have room, consider having a pool installed. If you are farther from the airport, consider running a shuttle. The more you can do to impress your guests and surpass their expectations, the better.
     3. Remember: Comfort is a Huge Part of Your Company
Some travelers are looking for an affordable place to stay. Others are hoping for great home style cooking. Some are hoping for a more personal atmosphere than most hotels can provide. No matter the reason your guests have chosen to stay with you for the night, make sure that you keep their comfort as a top priority, as it directly relates with their expectations.
      Invest in Cozy Mattress Toppers
Your guests will absolutely love their bed if it's as soft as a pillow. Buy a pillow topper or a cooling memory foam mattress topper to increase their comfort.
Because you have a smaller number of rooms than most hotels, it is easier to splurge on some of the more appealing room features guests are after.
      Offer an Array of Pillow Styles
There is nothing worse than getting to a destination and realizing they don't have the type of pillow you want or need.
Some people prefer firm pillows to support their neck and properly align their spine. Others need a softer pillow that lures them into a peaceful sleep. Some are allergic to feather pillows, while others can only sleep with one.
Offering a few options throughout the room will ensure guests have the right level of comfort they need for a perfect sleep.
        Make it Feel Like Home with Bathrobes
Your guests probably have bathrobes at home. That's because bathrobes are the perfect attire to don after a long day of work, before bed, after a shower, by the pool, or just on their day off. Why should that be any different when they are on vacation?
Comfort should be your company motto—and you should do everything you can to make it feel like home. Considering bathrobes? Some of our favorite bathrobes for a bed and breakfast are our Shawl Waffle Bathrobe and the Basic Kimono. Available in extended sizes and crafted from feather-soft combed cotton terry, these options will have your guests more relaxed than ever before.
If you are running a very high-end bed and breakfast, you might wish to opt for an even more luxurious option, such as the Microfiber with Plush Lining or a Satin Stripe Bathrobe. No matter what your style, there is a bathrobe for you and your guests. Want to see the entire collection? View all of your options here. Pick the bathrobes that you feel best match the theme and feel of your bed and breakfast.

Boca Terry: The Bed and Breakfast Owner's Dream
We are committed to the quality of our products—and we are also committed to helping you become the best business you can be.
If you would like to improve your bed and breakfast with any selection of our affordable luxury items—such as our bathrobes and towels—contact us today! You can place an order or receive a quote with our easy contact form.
Share this item with friends