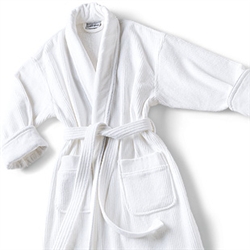 In the midst of summer, finding the perfect robe to accentuate your personal style is a tricky task. It is important to pick the right bathrobe as a robe can say a lot about who you are! Don't be bogged down by heavy bathrobes made for a winter wonderland; don't settle for robes made from nonabsorbent materials; don't settle for anything less than a perfectly crafted, luxurious summer bathrobe for your wardrobe.
Why Wear Robes in Summer?
Robes are a crucial component of an easy going summer wardrobe, and they are a great asset for all of your summertime activities. Whether heading to a beautiful outdoor spa, flying out to a pristine beach, hanging by the pool with friends, or enjoying a lazy Sunday afternoon in the comfort of your air-conditioned home, a robe will perfect all of your greatest summertime memories.
Classic Shawl
Crafted from absorbent terry cloth, this robe is an excellent option for your summer wardrobe. This perfect robe is elegant, plush and comfortable. Featuring cozy roll-up sleeves and a comfortable collar, no one can resist a classic.
Mini Stripe
Soft and soothing, this regal robe is the perfect addition to your summer wardrobe. The extremely plush material feels amazing against your skin, enabling you to fully relax and unwind on vacation. Even if you are not able to take a vacation this summer, this robe will send you on a mini vacation each afternoon after you get home from work for the evening. You just don't know relaxation and stress relief until you have experienced the Mini Stripe robe.
Satin Stripe
Our irresistible, lightweight, soothing, Satin Stripe robe is an amazing choice for summertime. The shell of this robe is made from lightweight, moisture-wicking polyester, while the lining is made from absorbent cotton and perfectly poly soft French terry. You get to choose a classic kimono style or a soothing shawl style. Designed for ultimate comfort, this soft and cozy robe is perfect for men and women. No matter who you are, it is the perfect addition to your summer collection.
Pink Kimono Satin
The Pink Kimono Satin robe might be the lightest and airiest of the bunch. Soft and silky against sensitive sunburn, this soothing robe is a must-have. Made from 100% polyester, this robe wicks moisture away from the body. Humidity and water droplets from the beach are no match for this perfectly soft, feminine, satin robe!
Kimono Waffles
Available in 100% cotton, you will not find another robe anywhere that is so light, yet incredibly absorbent. Built and crafted with all of your summer needs in mind, this robe is the perfect go-to when summertime rolls around. Hop out of the ocean and save your sweet vacation time by forgoing the use of a towel. Even better, this robe is an excellent choice for fashionistas! Pick from four waffle patterns, all designed with optimum comfort in mind. Available in "one size fits all," XXL, and 4XL, this robe was designed with everyone in mind.
Shawl Waffles
Nothing beats a waffle robe when it comes to summertime comfort and fun. This incredibly light and airy material will keep wearers cool, calm and collected. No need to worry about overheating and embarrassing armpit stains. Now, there is no need to fear talking to that cutie at the pool bar. With the option of colored piping, this robe looks elegant. Giving wearers confidence, this robe is arguably the best choice—it is the epitome of an irresistible summer bathrobe.
Knit Waffle Bathrobe
Created for the ultimate happiness and comfort of the wearer, this bathrobe is a must-have. Made with 45% absorbent cotton, 10% moisture-wicking polyester and 45% feather-soft modal, this robe meets all of the needs of robe-users across the globe. Don't miss out on your chance to experience this robe sensation. Available in "one size fits all" and XXL, this robe is perfect for you!
Organic Lightweight Waffles
The greatest features of this robe are in the name: organic and lightweight. This eco-friendly robe is beneficial in numerous ways. Help the environment by investing in a certified organic robe. Made from organic cotton and free from pesticides, this robe will promote a happier, healthier planet.
Not only is this robe great for the planet, but for the user as well! Do you have trouble with skin sensitivities? Because there are no chemicals in our organic cotton, those with skin sensitivities and allergies are often not bothered by this material!
Made from the Best
Our robes are no stranger to luxury. We source only the best materials for our custom-made fabrics. Years of expertise in the manufacturing industry has allowed us to refine our manufacturing process down to a science with meticulous fabric research for quality, unique design for innovation, sample making and systematic lab testing. Because we work closely with manufacturers, we are able to offer competitive pricing. High quality and highly affordable, our robes are the best choice around.
Boca Terry: a Better Wardrobe
Enhance your summer wardrobe with the best of the best—Boca Terry bathrobes. Don't miss out on these lightweight, absorbent, amazing robe options to accentuate your summer fun and comfort! If you have any questions about pricing, or if you are ready to order our bathrobes in bulk, contact us today!
Share this item with friends