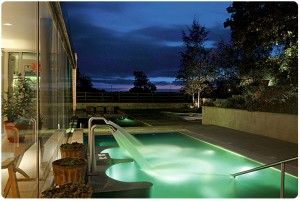 At Boca Terry we are often asked about the difference between a towel and spa wrap and why should a person would prefer one over the other. Our response is that they are two very different things, each one appropriate for a specific purpose and setting.
Functional, Stylish, and Sexy
Today we want to talk about the beauty of the spa wrap, as it is something unmistakably useful, functional, stylish, and sexy. Our personalized spa wraps are designed for a myriad of situations, allowing you to get the most out of the feeling of a towel, but with the security of a beautiful wrapped sensation that embraces the body where it counts.
Feeling Confident and Comfortable
A spa wrap allows you to feel confident and comfortable in a quick wrap without the worry of it slipping. How many times have you tucked the ends of a towel in only to find that you have to repeat the action again and again to keep it in place? With a Boca Terry spa wrap, once its fastened, it stays in place until you decide otherwise.
Holding You Snug
Our spa wraps are specially designed to hold you snug. When normally you would wrap a towel around yourself before jumping into the shower, for going from one beauty treatment to another, or changing after a swim in the pool, a spa wrap takes over with much more authority.
Capturing the Essence of Our Clients
Once you realize how easy and sensual it is to be enveloped in one of our spa wraps, you will, of course, want to have your own personalized, custom version. Our embroidery experts are always in demand for creating the perfect design or logo that captures the essence of our clients.
An Emblem as Unique as You Are
Whether you are a hotel, cruise line, spa, or hospital; or one of our retail customers ordering from our online store, we make sure that your emblem is as unique as you are. Our designers will work with you to create exactly the right initials or logo, in colors that match the essence of your establishment's personality or the intrinsic essence of your own personal style.
Advertising Your Brand
Personalizing your Boca Terry spa wrap is also ideal if you have an in-house or online shop of your own. What better way to advertise your brand than to have your guests take home something so practical and lovely that constantly reminds them of their wonderful stay at your locale?
Party Favors and Giveaways
Our personalized spa wraps also make excellent party favors, promotional giveaways, wedding party gifts, and the like. When you customize them with a reminder of the event, you make the day and the present so much more special.
Attention to Quality
Boca Terry wraps are made with exceptional attention to quality. Our looping technique employs the longest fibers, ensuring that you get the greatest amount of absorbency and comfort.
Moving With Ease and Confidence
Made for men and women in one-size-fits-all, as well as in plus sizes, we make a 24" long model for men, reaching from waist to mid-calf, and a 32" long model for women that starts just under armpit and ends above the knee. Our perfectly placed snaps allow for adjustment, depending on your own particular dimensions, allowing the wrap to fit perfectly and comfortably, whether you are sitting, standing, or reclining. With carefully placed elastic, our spa wraps also allow you to move around with ease and confidence.
Several Types of Fabric
Boca Terry offers several types of fabric for our custom spa wraps. This includes a gorgeous cotton blend consisting of 67% cotton and 13% poly waffle, or a 100% poly microfiber with delicious French Terry lining.
100% Organic
For those of you who are sensitive to blends, we offer exquisite 100% combed organic cotton velour. Here we are very careful to source cotton that is made from non-GMO seeds, and that has not been touched by bleach, heavy metal dyes, formaldehyde resins, or any other toxin that may cause harm to the skin. With extreme deference to the environment, Boca Terry is highlighting our commitment to Green products as we help many of our clients segway into environmentally friendly practices.
One of Our Top Sellers
Choose your spa wrap in a basic or knit waffle and you will see how effective it is for absorbing moisture, as well as holding in the creams and oils so necessary to keeping your skin supple and soft. As suppliers to many spas across the globe, we find that this is one of our top selling items when it comes to convenience and ease.
Made to Last
With our own factories in China, Columbia, India, Pakistan, and Turkey, we can guarantee that a Boca Terry product is made to last. We use only top-quality materials sourced from the best. We have trained our employees in quality control to ensure that every item that leaves our doors is made as if it were one-of-a-kind. The machines we use and the techniques we employ for creating a custom product from top to bottom are all state-of-the-art.
A Commitment to Luxury
Our commitment to luxury has fast become the foundation for our reputation as supplier to some of the top hotels, bed & breakfasts, cruise lines, casinos, spas, hospitals, and more. Boca Terry's global presence is constantly growing, as we are known for upholding the highest standard when it comes to making sure that your clients have the best.
Our Retail Division
Our retail division is equally respected, as our client list expands exponentially through word-of-mouth and via those who have sampled our products in establishments across the world, yearning for some of their own. Personalized Boca Terry merchandise is also sought after by names in the sports, music, and film industries, and we have created many specialized pieces for these illustrious clients.
Contact Us Today
For more information on our personalized products that are soft, perfect, and unmistakably you, please contact us today. Simply call (877) 421-6001 or fill out our online form!
Share this item with friends