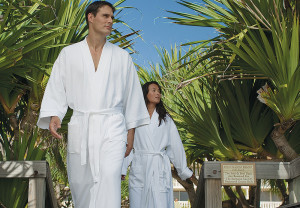 Like most people we know, we love spring here at Boca Terry. Spring means warm weather, budding flowers, and new fashion trends! The later spring months from May to June are even better, considering that it means you are totally out of the way of most frost and snow storms.
Now that spring is officially here, you might be looking for ways to keep your brand fashionable all season. There are several options for you to hop on the springtime fashion bandwagon. For example, are you considering some new robe ideas for your resort this spring? Perhaps you are hoping for a renewed collection of bathrobes in honor of this renewed season? The good news is that, no matter what you are looking for, Boca Terry has a solution for you.
With such a large collection of options, it might be hard to narrow down your choice without some advice from the pros. If you are not yet sure which bathrobes are the right choices for your resort this spring, then you have come to the right place. The following are some of our favorite options for springtime bathrobes:
The Shawl Waffles Bathrobe
With travel season getting into full swing, your resort and spa features will be experiencing a larger number of guests. Now is the time to get ready with a new collection of robes for the season. Cue the Shawl Waffles Bathrobe. A lightweight option, this robe is a beautiful, soothing selection that works well in the resort rooms or at the resort spa. It is one of our most elegant variations of our waffle collection, making it the perfect way to set your establishment apart from the others.
Microfiber
Spring is one of those seasons that are typically warm, not hot—but sometimes, spring ventures into cold territory. Think of it this way: you wouldn't be surprised to see frost on your car early on a spring morning, even in the later months.
That's why, sometimes, it's best to just go with a warmer option. We always believe that it's better to be safe than sorry—especially if your guests are relying on your bathrobe selection to keep them warm and cozy throughout their stay! Some guests are naturally prone to being cold. That's why it's always a good idea to have a warmer option available. In fact, it's not a bad idea to offer two choices per person staying in a single room.
Our Microfiber Bathrobe is one of quality and regality. This robe screams class, making it a great option to elevate your brand. Let your guests enjoy the feeling of ultimate luxury in a Microfiber Bathrobe.
This is perhaps one of the best bathrobes for spring, across all climates. Just the right mix of heaviness and lightness, this robe will keep guests warm without causing them to feel too hot. Plus, this luxury bathrobe is reminiscent of a quilt, offering your guests the elevated feel of comfort and coziness.
Basic Kimono
The Basic Kimono is anything but basic. This classic option is a great choice for all seasons and climates. It is the perfect go-to when you aren't sure which bathrobe to go with. Best of all, this robe is made from well-manufactured, durable materials.
Why Choose Boca Terry?
Boca Terry's name is synonymous with class, elegance, and integrity. Care is put into the design and manufacturing of each robe. You will stand out from the others in so many ways.
Don't forget that these bathrobes are easily customized to suit your company's needs. Whether you are looking to customize a pattern or embroider your logo—or both—Boca Terry can easily walk you through the personalization process.
Durability is Key
Now is the time to get your resort stocked up on durable bathrobes. But, why does durability matter in the first place?
Well, as you know, the beginning of spring means that the summer is just around the corner. In the hospitality business, this fact means that your resort is about to get busy! You will be washing your bathrobes more frequently than before. Therefore, a durable option is your best bet for something worthwhile this season.
With busy summer on its way in, you need quality to ensure that your bathrobes last throughout the entire season. If your robes are washed daily, they are going to take quite a beating. The good news is that Boca Terry bathrobes are made with quality in mind, of only the best materials sourced from around the world.
Regardless of the bathrobe you are choosing, you know that it's a good choice if it's Boca Terry.
Boca Terry: Best Spring Bathrobes Available
If you are ready to bring your resort to the next level this spring, now is the time to opt for the best. If you have questions about wholesale pricing, or to place an order, contact us now! We would love to hear from you.
Share this item with friends