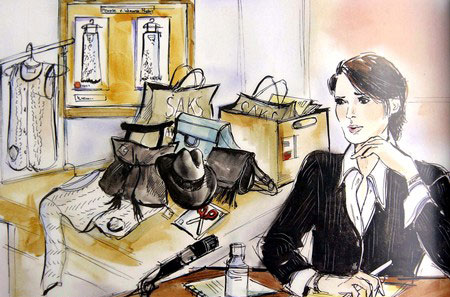 They say that in art, imitation is the best form of flattery. In the same spirit, we at Boca Terry say that within the hospitality industry, thievery seems to be its best form.
Now please don't think we're condoning the act, we certainly don't. However, we can't help but admit that we do become dangerously flattered when reports come in that yet again, our luxury Boca Terry bathrobes have flown the hotel coop.
Actually we can serve this as a warning to you buyers out there: woe unto you if you do not have an online or in-house boutique where guests can legally purchase a beauteous and desirous robe of ours. If you don't supply them, it seems that they'll have them anyway, by hook or by crook.
And crooks they are, many of those guests who look so prim and proper. Little does anyone suspect that beneath that reasonable exterior lies a coveter of all things comfortable and not tied down.
We had the pleasure of reading a very well-written, informative, and witty article from Smart Travel Asia that corroborated all that we too have found when it comes to hotel pilferage. Towels, televisions, hairdryers, mini bar contents, pillows, decorations, and even duvets… they all are common items for the taking.
Even more obscure, guests have been known to nip the odd chandelier, rug, and even ceiling fan. (In a whispering tone, we have to admit that we suffer from a tiny bit of admiration for the ingenuity of the person who was able to pull that one off!)
Of course, nowadays hairdryers are attached to the wall and hangers are significantly attached to their rods in many establishments that have taken one too many blows from savvy heisters. Naturally, a bathrobe is still prone to sticky fingers since it can't be attached to anything (but your guest's heartstrings, that is!)
We have heard of cases where suitcases arrive empty to be filled with as many robes and towels as can fit inside. Off guests go at the end of their stay, happy as clams to wallow in that same luxury in their own bathrooms, with concierges left aghast at the audacity.
One anecdote in the aforesaid article speaks of an on-going plunder-fest in 2008 at a certain Holiday Inn. Over the course of the year, the 560, 000 journalists who stayed there appropriated an equal amount of towels, inspiring what became known as Towel Amnesty Day in the hope that some decency would come to the fore for at least one day out of the year.
These days many hotels are taking to the Zen aesthetic, where less in the room means more. But we hold that whether your establishment is spare or sumptuous, your towels and robes will always provide great temptation, especially if they're Boca Terry. Perhaps we should work on a mini-alarm chip in the seams…
Discover the comfort and luxury that makes our robes such a temptation and contact us today using our online form or by calling (877) 421-6001.
For a little fun with Winona… here is a clip of the dirty deed!
Share this item with friends