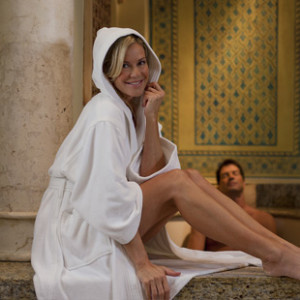 As we walk into our constantly evolving future, we realize that in order to fully appreciate the present we must make adjustments in the way we live our daily lives. Taking care of ourselves and our planet through more conscious living is what we at Boca Terry feel is the primary focus for moving forward positively.
Awareness and Attention
There certainly seems to be a strong emerging trend towards becoming more accountable for the incontrovertible changes we are seeing all around us. From the power and ubiquity of the technological world to the changes in climate all over the planet, we are in a time that demands awareness and attention.
The Importance of Private Time
So many surveys testify to the fact that though technology provides an amazing boon to our lives, but it also creates enormous stress. Just think of how you feel when you have no Internet connection. Answering emails as they come in, feeling that you have to do so no matter what you are doing, and keeping up with your social media has become a daily task. Our ability to be in touch with everyone is certainly marvelous, but it also makes us forget how essential it is to have our private time.
Taking Time Out
Taking time out is the key to health. Allowing yourself to be pampered in an atmosphere where there is no pressure to do anything else but observe how you really feel, to breathe deeply, and to disconnect, which is the key to health on every level.
Relief from the Stresses of Life
Spas provide oases for their guests, offering them the opportunity to be attended to, whether it is with a deep massage, a revivifying soak in a Jacuzzi, or a steam bath or sauna. At the very least, just being at a spa implies that your guests are looking for relief from the stresses of everyday life.
Unwinding and Renewing
We believe that the best advice you can give your spa guests is to try to understand what it really takes to disconnect. Leaving behind all that annoys, worries, or even gently reminds you of your responsibilities can only help recharge the batteries. After all, its only for a few hours, a weekend, or several days, and this time can mean the difference between chronic stress and allowing the body, mind, and soul to completely unwind and renew.
Lowering Our Carbon Footprint
When it comes to attending to our planet, as a spa that is forward thinking and aware of the potent measures you can take to operate your businesses on a greener and more eco-friendly basis, you can partner with your guests to implement various protocols. Reusing towels, robes, and linens whenever possible is something that you can implement as a way to educate your guests and employees. Not having to do excess laundry loads is certainly a powerful way to lower our carbon footprint.
Staying Toxin-Free
Using organic and hypoallergenic products that contain no toxins is another way to backup your aim to promote personal health, as well as retaining your Green ethic. Information about the products you use is another way to keep your clientele educated, which is something that they can take home with them and apply to their daily lives as they revise their shopping lists to include more conscious products.
Showing What You Stand For
As a spa owner, director, or product buyer, your choice of services and products is how you show what you stand for, which includes your staff, the amenities and treatments you offer, and the materials you use. From recycled paper to non-GMO grown fabrics, your guests will notice the details.
Having a Transformative Experience
Sometimes it is difficult for people to realize that they deserve the best. When life becomes too routine, we often tend to believe that we'll never achieve even a moment of respite where we feel worthy of being tended to instead of doing the tending. Let your guests know that they need to do nothing more than accept the fact that they are in your spa to be treated like royalty. Advising them to lay back and receive can make all the difference between having just a nice time or having an experience that is truly transformative.
A Consistent Philosophy
Thinking about what it takes to give your guests what they come to you to find is more than just providing them with a list of interesting and diverse treatments and a comfortable place to enjoy. For us at Boca Terry, it is about being consistent with your philosophy. When your philosophy is clearly articulated, it will be evident in everything that comprises your spa.
Our Robes
Our Boca Terry organic robes are made to uphold the best of the Green ethic. Coming in a variety of styles, they are ideal for spas in that they provide not only the ultimate in comfort, but also in absorbency. With an ability to hold in emollients in between treatments while wicking away excess moisture provides the skin with a soothing and comforting sensation. The materials we use to make our eco-friendly products are grown from non-GMO seeds that are harvested in toxin-free soil and nurtured through old-fashioned methods, which include crop rotation and natural ways to keep them from damage as they grow. With exceptional looping, weaving, and sewing techniques, they are made for durability, which means that even after many launderings they retain their integrity. Created with style and customized to show off your brand logo, a Boca Terry robe speaks of luxury and awareness. Offer them in your onsite or on-line boutique and you can provide your guests with the reminder to be more mindful of their own comfort, every day of the week.
Contact Us Today
For more information on our products, please contact us today.
Share this item with friends