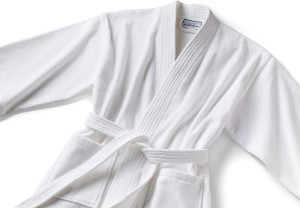 The spring season is marked by a vibrant aura ready to welcome in the summer. With the clocks being set ahead, you'll probably be hitting the snooze button one too many times and ultimately need a snug garment to unwind.
Or perhaps, you're getting your establishment's setting ready for the season. Whichever category you find yourself belonging to, the cozy and superior quality bathrobe styles from Boca Terry surely top the list of this year's trendiest wardrobe pieces. The following are some our best styles for spring.
Basic Kimono
What better way to start off the airy spring season than with a lightweight bathrobe featuring a simple Japanese-inspired design? The kimono's smooth lines flatter every body type with less fabric used on the collar and sleeves to allow for easy movement.
Comfort comes standard with your choice of terry and velour. Different fabric weights are also available to choose from with multi-needle stitching boasted around the cuffs and large front pockets. The timeless style of this luxe robe can easily blend into a classic or contemporary setting.
Checkered Bathrobe
This 100% combed cotton alternative comes in distinct shawl collar and kimono versions for a minimalist scheme adorned with an original blend of lush and smooth touches. The checkered velour pattern is all the rage this spring season as it makes for a versatile appeal that can be utilized all year long.
A favorite among some of the world's most renowned spas, Boca Terry's Checkered bathrobe is available in navy or white piping for the shawl collar version, which also comes with a comfy roll-up collar and sleeves. Your hotel or cruise line guests can kick back and enjoy a warm beverage as they watch the sunset in this hugging number.
Kimono Waffle
Since subtle patterns are making a huge impression on this season's trend alert, it's no surprise why we chose the Kimono Waffle from Boca Terry as another leading choice for spring. This diverse bathrobe comes in a myriad of options:
Short Basic Waffle (67% Cotton 33% Poly)
Large Diamond Kimono
Multi Waffle Kimono
Basic Waffle (67% Cotton 33% Poly) Kimono
Basic Kimono Waffle with Piping (67% Cotton 33% Poly) Kimono
Seashell Waffle Kimono

Comfort and functionality are some of the most notable features of this particular bathrobe. Also a favorite in the spa environment, among others, Boca Terry's Kimono Waffle bathrobe stands out with its crisp composition that makes it great for lounging around by the pool or beach.
It's really easy to wash and dry this robe. Additionally, its wrinkle-free lightweight fabric makes it an ideal pick for travelers to pack and take with them regardless of the luggage size.
Micro Chamois Bathrobe
Chamois is a lightweight fabric that's not only easy to carry from one place to another; it also offers warmth and flannel-like softness—a real treat for those breezier spring days. With an 85% polyester and 15% nylon build, it's also a highly durable fabric, which means it can endure several launderings without having its structure and benefits compromised.
This chic bathrobe is also available in shawl collar and kimono versions for an elegant dash in any ambience. The sophisticated robe offers enough coverage to serve as a stylish cover-up that can match any wardrobe. The intricate stitching both enhances its charm and helps keep the robe as smooth as can be.
Microtec Bathrobe
With spring comes the urge to get as much of the sun's ongoing shine as possible. This particular robe can help you or your guests do just that with flair. With an extra soft makeup, it's impossible not to fall in love with this 100% polyester wonder that makes its microfiber kin proud.
The Pineapple Check version flaunts a raised finish in both the shawl collar and kimono styles, whereas the Mini Check model flaunts a flat finish with a sharper arrangement. The Pineapple Check version features piping, while the others do not, but all make the case for a sleek and long-lasting piece.
Mini Stripe Bathrobe
Who said you have to leave home or a hotel room to enjoy a relaxing retreat? Boca Terry's Mini Stripe Bathrobe is warm and fluffy all over. Made of 100% cotton, this modern jewel takes the crown for putting luxe on the vanguard.
Alternating ¼ stripes take turns leading the way to a lavish feel and look, as they're met by fine cord edge piping. The double belt loops allow for easily adjusting the belt height, while a hanger loop makes way for storing without a hassle.
Satin Stripe Bathrobe
Boca Terry's Satin Stripe bathrobe is lined with lavish French terry knit (80% cotton and 20% polyester) for a more refined allure. You can spot the material's glow from a distance courtesy of its premium quality nature.
Each season is known to bring back a little something from the past. A unique garment, indeed, this gorgeous bathrobe takes on the influences of the traditional smoking jacket once worn in the 19th century that looks even more attractive this time around.
Complete the Spring Look
What's better than wearing a trendy bathrobe this season? Matching it with a pair of chic slippers and spa accessories. At Boca Terry, you can choose from a range of bathrobes as well as spa accessories, including spa wraps and headbands, to fully embrace a truly cozy experience.
In addition to having various designs to choose from, all of our bathrobes and spa accessories can be customized with your choice of a custom monogram, emblem, or logo. Our expert designers will work with you to make your ideal design a reality.
For more information on how you can make a splash with Boca Terry bathrobes this spring, contact us today. One of our knowledgeable team members will be happy to go over our different models with you.
Share this item with friends