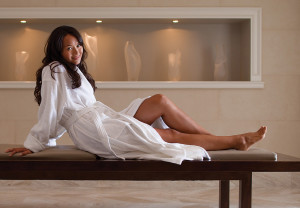 Shopping online is easy and efficient. You can do a quick search for exactly what you are looking for and you can pick your color, size, and fit immediately. However, with so many stores, there is bound to be a little inconsistency from one brand to another—and that's where size charts come in. Size charts are a useful tool for anyone who shops online and is hoping to obtain the proper fit of garments ordered via the internet.
Before you make your next big purchase, be sure that it's going to fit properly! Follow these tips to better understand sizing charts.
Scout Out the Measuring Tape
The first thing you're going to need is a roll of measuring tape. This should be the flexible body measuring tape used for measuring during alterations. It should not be the firm, aluminum ruler that is used in construction and household projects.
That means you're probably going to need to do some digging through the junk drawer—but don't worry. It's in there! If not, you may be able to find some at a fabric store or even some dollar stores.
Learn How to Properly Measure
When you are measuring yourself or others, it's critical to make sure you are measuring on the right part of the body. Keep in mind that you will need to measure men and women differently.
Measuring Women: the Basics
When it comes to getting body measurements, there are some simple steps that will help you measure properly. When measuring your bust, situate the tape beneath your arms and around the fullest part of your chest. For your waist, measure around the natural waistline and keep the tape just a little loose. Finally, measure the fullest part of your body at the top of your legs for hip measurement. If you need more tips for the full range of women's measurements, see this chart.
Measuring Men: the Basics
Measuring men is going to be a little different than women, as the two typically have different features.
When it's time to measure a man's body measurements, you'll want to focus on some specific key points. Although you won't need all of these measurements for your bathrobe, it's a good idea to gain practice with the proper measuring techniques. You never know when you might need them.
First, measure around the neck. This should be done close to the middle of his neck, around the Adam's apple. Don't forget to keep it just a bit loose! This will ensure that the garment is properly fitted and yet comfortable—no one wants to be choked by their shirt!
Then, you'll want to measure around his chest. Just like before, you want to measure around the fullest part to ensure a proper fit. Next, measure a little loosely around his natural waist. Typically, men's clothing has a looser fit than women's. Finally, you want to measure arm length, which is important for men's sizes.
Instruct him to bend his elbow at a 90-degree angle while resting it on his hip.  Holding the tape at the center of his neck, drape it across his shoulder to the elbow and then down to the wrist. This total length is typically the sleeve length in men's attire. If that sounds like a lot of work, follow an easy guide here, where you will see the full range of men's measurements.
Sizing Boca Terry Bathrobes
Here are some details to keep in mind when trying to understand Boca Terry's bathrobe sizing chart:
Keep in mind that our "one size fits all" (OSFA) sizing is often sufficient for most of our customers and their clientele. However, also be aware that one size doesn't really fit all. There are times when you'll need extended sizes, and there's no shame in that! You want to be sure to offer these sizes at your establishment.
Also be aware that the bathrobe's sweep is the widest measurement of that bathrobe, taken at the bottom. The length is measured from the back center of the robe, vertically. The sleeve opening is taken from the measurement of the bathrobe's sleeve circumference, whereas the sleeve is the actual length of the sleeve.
If you are looking for details laid out in an easy chart, you may review Boca Terry's sizing chart here. If you think you know which size you're looking for, make the purchase easily online. For wholesale orders or with any questions, contact us today!
Share this item with friends