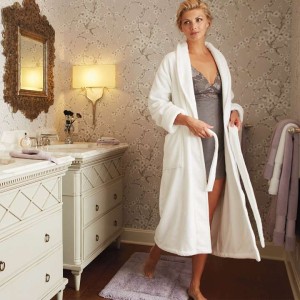 Whether it is the end of the year party, a celebration of new acquisition, an anniversary of a prized co-worker, a birthday, or any other landmark occasion, corporate gifts are an excellent way to thank your employees and associates for their loyalty and good work. They also, of course, play a very important role in cementing business relationships and bringing in new business.
Showing the Heart and Soul of Your Company
Giving a non-financial reward for service is a way to offer a more intimate gift that can mean something very special to the recipient. Choosing appropriate gifts that people will use, especially products that you might not buy for yourself, is a powerful way to show the heart and soul of your company, and this goes a long way.
Giving Something Memorable and Lasting
We are constantly being asked to send out our signature robes when any one of our clients is celebrating an event that requires gift giving. Whether you are a hotel, spa, resort, casino, or otherwise, well thought out presents will resonate with the recipients, providing something memorable and lasting.
Reminding People of What You Have to Offer
Giving a product that you provide at your establishment is an excellent way to remind people of what you have to offer, especially if you are giving to outside companies that you contract for services. A Boca Terry robe, for example, makes an ideal choice as it is both luxurious and practical, and is something that speaks of your generosity.
Elevating Your Image
Packaging your corporate gifts should be done with sensitivity to detail, which also reminds those on the receiving end that everything you stand for is impeccable. Making this gesture a tradition for your establishment by providing company branded items will help elevate your image, which, in turn, will positively affect your return on investment.
Showing Your Appreciation
Pick affordable products that look expensive. Package them beautifully and deliver them in person or hand them out at your event with personal cards. This is an elegant and classy way to show your appreciation for jobs well done, important affiliations, and potential business with those who as of yet have not become a part of your world.
Thinking Creatively
Today's competitive environment in all facets of business make it imperative that you think creatively when it comes to attracting new clients and keeping those who have been loyal throughout the years. Drawing people to you through exceptional packaging to present your brand in the best possible light is one of the best ways to create brand affinity.
The Power of a Great Logo
This brings us to a subject we've been talking about for a long time, which is the power of a great logo. We have enormous familiarity with creating logos for our clients, working with them to find just the right look that reflects the uniqueness of what they offer. With a beautifully embroidered logo, design, or monogram showing on the front of an impeccably produced bathrobe, you have a gift that says more with just one gesture than a brochure filled with thousands of accolades about your establishment could ever do.
Becoming a Household Word
When the public starts to identify your brand with a general service, you start to become a household word. Just think about how Nike conjures up a brilliant athlete, or how Apple reminds you that when you are ready to update your computer, you are going straight to the Mac store. These brands have become generic terms for the product they represent, which is exactly what you want to do for your company.
A Sign of Respect
We can't emphasize enough how persuasive great content and its packaging can be when it comes to impressing your public. There is nothing superficial about focusing on how you wrap your gifts, as this is very much the same as presenting yourself in a stunning suit or a perfectly cut dress. Dressing well for an occasion is a sign of respect to the other, and it is the same when it comes to finding the right packaging for your gifts.
The Impact of a Gorgeous Robe
Let's get back to content to give you a little insight on the impact a stunning unisex robe can have on a man or a woman. Picture a Satin Stripe robe lined with French Terry. Wrapping around the body just so, the drape has been designed to create the perfect silhouette for any body type. The shawl collar is easily brought up under the ears for extra coziness, the large roll up cuffs add a delicious touch, and the deep pockets are just right for warming the hands or holding keys or a cellphone.
Imagine a plush terrycloth robe with a hood that covers wet hair like a dream. Keeping one warm and dry from head to toe, the comfort level is on a par with all that you stand for in your hotel or spa.
Now see your logo perfectly embroidered on the front of the robe, lifting the value of the garment to an even higher level. Don't you think everyone would absolutely clamor to have such a gift?
Appealing to Any Age, Any Culture
Never underestimate the effectiveness of a good robe. As a metaphor for ease and pampering, giving a gorgeous robe that has been packaged with care will appeal to the desires of anyone of any age and any culture.
Satisfying Your Public
Our many years of experience in the hospitality industry have made us somewhat of an expert when it comes to knowing how to satisfy the public. We strive everyday to make the best products possible, as we believe that everyone deserves to be treated like royalty. No matter if you are a small bed & breakfast or a large spa chain, we provide you with merchandise that looks like a million, but that costs far less than you imagine.
Share this item with friends