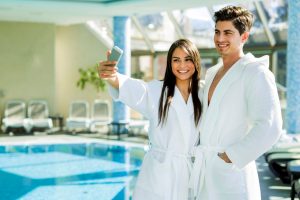 Before making a selection, keep these four features in mind
When most people come back from a great trip, they are generally pretty anxious to tell their friends and family about where they went, the things they did, and maybe even the food they ate. They don't, however, probably mention the robes in their hotel. This could be for two reasons. One: there were no robes; they opened the closet only to discover a few hangers. Two: The robes weren't worth talking about; they were old, worn out, or just plain unattractive.
Guests may not initially book a hotel room based on robes, but robes are one of many amenities that could have them coming back. But not just any will do – the best robes need to have these four important traits:
Durability
Durability has to be a main consideration with anything in a hotel that will have to be washed repeatedly, and the robes definitely fall into that category. Robes and accessories like slippers have to be able to take regular cleanings and still maintain their softness and shape.
Comfort
This one's a no-brainer: People may put a robe on to dry off from a shower or a dip in the pool, but they'll only keep it on if it's soft and comfy. Avoid scratchy items that sacrifice comfort for durability; a good robe should have both aspects, over the long term.
Style
Function is certainly important with a robe, but so is form. A robe should be stylish because people always want to look good, whether it's to impress their traveling companion, lounging onlookers, or just for themselves (possibly in a luxurious selfie).
Absorbency
Above everything, a robe has to do its job, and that's getting people dry. Anyone who has ever worn a robe of dubious quality knows firsthand about poor absorbency. And a great robe will be so absorbent that it can replace a towel in many instances.
Boca Terry has the robes your guests will love
Boca Terry makes the highest quality bathrobes available. All of our robes are created from ultra-soft materials with excellent absorbency. We also make durability one of our priorities, so you can be sure our robes will hold up to a lot of wear and tear.
Boca Terry carries a wide variety of different types of robes in an assortment of styles that are perfect for:
Hotels
For hotels, we recommend our terry or velour robes that come in a shawl or kimono. Our waffle or micro chamois robes are also excellent options. In addition to robes, we also offer slippers, towels, and lounge chair covers.
Boutique Hotels or Bed & Breakfasts
Boutique hotels and bed and breakfasts typically have certain types of guests that only expect the best, and our robes won't disappoint. Our satin stripe, knit diamond, or seersucker robes are the perfect luxury room items. We also have a great selection of microfiber and microtec robes that are incredibly soft.
Spa Resorts
Because spas generally involve a lot of water, good, absorbent robes are essential. For spas we suggest our waffle, microfiber, or hooded terry and velour robes. We also offer wraps and headbands as well as waffle blankets.
Keeping your guests completely satisfied can sometimes be a struggle, but they'll never complain about your Boca Terry robes. To learn more about our robes and what we can do for your facility, please fill out our online contact form with questions or to place your wholesale order.
Share this item with friends