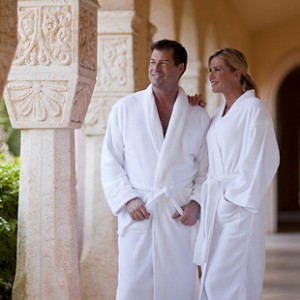 Boca Terry has been serving the hospitality industry since 1996 when Bruce and Edward Cohen decided it was time to create a business that defined luxury without costing clients vast sums of money. Our mission remains the same as year after year we produce top quality merchandise at a fraction of the price that one would expect.
Never Dealing With a Middleman
How do we do it? Every aspect of our business is self-owned. This means that we never deal with a middleman, which is often what causes costs to rise, affecting the consumer with every sale.
Supplying the Ultimate in Luxury, Elegance, and Style
Our ideal is that every establishment desirous of the best materials comes to us for our excellent service and exquisite items, no matter what their budget. With ratings becoming more and more crucial in this day and age of extreme competitiveness within the hospitality industry, the best way to stay at the top is to supply merchandise that speaks of the ultimate in luxury, elegance, and style.
Our Signature Terry Cloth Robes
One of the most popular items we carry is our signature terry cloth robe line. Using the most advanced looping techniques, we are able to produce a robe that is exceptionally absorbent and deliciously cozy. When your guests wrap a Boca Terry robe around himself or herself, they will feel secure, at home, and infinitely well taken care of.
The Essential Ingredient for Success
Taking good care of your customers is of course, exactly what the hospitality industry is all about. When your guests recognize that they feel better when they stay at your establishment, you have touched on the most essential ingredient for success.
Our Beautiful Selections
Coming in a beautiful range of styles, you can choose a terry cloth robe with an elegant shawl collar, roll up sleeves, and sumptuously deep pockets; a kimono style with lean lines that give length and elegance to any body type; and the famous hooded terry that envelops the body from head to ankle, giving special meaning to the word 'comfort' no matter the situation or weather.
Exceptional Styling
All of our robes come with the ability to adjust for personal waist height, as well as a loop at the back of the neck for easy hanging when not in use. They also come in an easy-to-order one-size-fits-all, with plus sizes available when needed.
The Great Metaphor for Quality
With customer-driven online reviews, such as we find in Trip Advisor, it has never been more important than now to provide exceptional robes. Today, robes have become the number one barometer for how customers view their experience after booking a given establishment. As the great metaphor for quality, a beautifully created robe can often mean the difference between a one-time visit and the constant return, with glowing recommendations to friends, family, and business associates along the way.
Our Organic Line
Our signature bathrobes are woven from the finest cotton sourced from the best locations. When it comes to our 100% organic cotton terry cloth robes, we use only non-GMO grown seeds and pay strict attention to regulations that avoid all traces of pesticides, resins, bleach and other toxins so that you are able to cater to guests with allergies and sensitive skin.
High-End Materials, High-End Customer Service
Our factories are set up in China, Columbia, India, Pakistan, and Turkey, where we educate and inform all of our employees on the best practices for manufacturing luxury items. Using the most up-to-date technology and techniques for producing our line of robes, towels, slippers, and more, we are able to provide high-end materials that leave our doors thoroughly inspected, leaving no detail unnoticed.
Quick Delivery and Communication
With a warehouse in Deerfield Beach, Florida, we also have locations in Miami, Los Angeles, London, and Hong Kong to provide fast distribution to our clients throughout the United States, Europe, and Far East. Our digitized services ensure that all communications are received and responded to quickly and efficiently, including the inclusion of custom artwork on your orders.
In High Demand
Our clients include some of the most renowned hotels, spas, cruise lines, casinos, promotion companies, and hospitals around the world. We are also in high demand for corporate gifts, incentive programs, and event planners who recognize that a Boca Terry product has a value beyond price.
Adding Cache to Your Brand
Many of our clients now have online or in-house boutiques where they are able to sell the merchandise they feature in their rooms. We have received countless testimonials regarding the satisfaction that guests feel when able to purchase a hotel robe made by our experts. When your establishment's logo or design is placed on the front, this adds even more cache, helping your customers feel like part of the exclusive club that is your brand.
Impeccable Customization
Our wholesale terrycloth robes are ideal for customization. With an impeccably embroidered logo, you will be providing your guests with the perfect advertisement for your brand, differentiating your establishment from all the others. Here again, we keep our prices down so that you can always afford to put your best foot forward.
Contact Us Today
For soaring quality and fading costs, there is no better place to find exactly what you are looking for in a terry cloth robe. Please contact us today to look through our online catalogue and for a consultation on how to customize your order.
Share this item with friends