Does getting out of a warm shower or steamy bath seem like a daunting task this winter? Fret no more, we have put together a list of the best bathrobe fabrics to wrap yourself in for a luxuriously warm experience. There's nothing like curling up in a warm bathrobe on a cold winter evening with a cup of hot chocolate and a favorite book or movie. We can all appreciate the feel and warmth of a winter robe that envelops us in comfort when the world outside is cold. There are several different fabrics that offer warmth, luxury, and functionality in even the coldest climates and can make your home feel like a spa so continue reading below to find the feeling that is for you!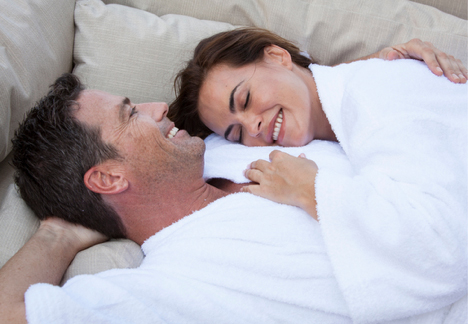 Velour
Velour is a cut looped fabric that provides a luxuriously soft and comfortable feeling similar to that of velvet. It is widely considered to be one of the best fabrics for cold climates and it is one of the most popular today. The knitted material is usually made of cotton or polyester and keeps the body warm and snug on particularly cold nights. Most velour is treated so that it can be easily cleaned. Our velour robes provide a warm cozy feel that you will fall in love with.
Microfiber Fabrics
Revered for years by sportsmen and outdoor enthusiasts, the Microfiber fabrics have become a new standard of quality and performance in bathrobes and loungewear. These textiles are constructed of synthetic fibers such as polyester and nylon and are developed to wick away moisture and help the wearer retain heat in cold temperatures. Bathrobes constructed of microfiber fabrics feel very soft against the skin, can withstand many laundering cycles and get softer with each wash! These high-performance robes have the added feature of drying quickly after washing, so you'll never be stuck in a cold, damp robe.
Micro Chamois Bathrobe
Both lightweight and warm, this velvety and remarkably soft fabric is the perfect winter fleece. The velour finish gives the bathrobe a smooth texture – that most anti-pill fleece fabric lacks – with an anti-static feature. You won't mind staying in with this one!
Microfiber with Plush Lining
One hundred times finer than a human hair, microfiber is incredibly gentle and soft to the touch. The fabric features exceptional strength making it highly durable and easy to care for. Casual-yet-elegant, the microfiber bathrobe features a plush micro terry lining and roll-up collar and cuffs ensuring a lightweight warmth that the wearer is sure to love.
Microterry Bathrobe
If what you're after is something luxuriously fluffy and warm to cuddle up in a cloud of comfort, this micro terry robe is the answer. Softer than cotton, this fabric is super absorbent and smooth, giving the rich look and feel of velour but with a lighter balanced weight. You really can't go wrong with this one!
www.bocaterry.com
Share this item with friends