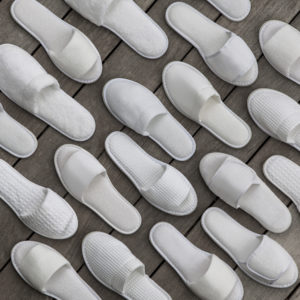 Make an impression on guests with amenities that pamper them
With the competition rising (thanks to new startups like Airbnb), now is the time to make your bed and breakfast (B&B) really stand out from the crowd. One of the best ways to attract visitors is to offer them the best amenities in the business. Wondering how you can improve? Here are a few features we think you might want to consider to help boost guest satisfaction:
1. A pool
Whether indoor or outdoor, with or without an accompanying hot tub, guests love a good pool. Think about it: if there were two bed and breakfast locations offering similar rooms in nearby locations at around the same price, would they be more likely to book the one with or without the pool? We think you already know the answer — pools are a huge draw and an easy crowd pleaser. It does take extra work and finances to properly manage one, but it could easily be worth it thanks to the extra guests you're likely to attract.
2. Great food
One thing that puts B&Bs ahead of the competition is the food. Hotels serve continental breakfast (cereal, milk, and prepackaged muffins), and most Airbnb hosts don't serve anything. That's where the humble B&B comes in. The delicious breakfast you offer is a real opportunity to shine and lure in guests by resonating with the popular (and profitable) foodie crowd.
3. Happy hour
Have you ever considered offering a complimentary happy hour? It's a great way to win returning customers! If you've set up shop in a cute, walkable town or downtown area, a happy hour is a cool way to treat your guests to a little something extra special. You don't need a full bar — and a fixed menu and a few bar snacks will do just fine. Just keep a professional bartender on campus to keep an eye open for when someone's had a little too much. Also, keep your happy hour to an hour or so to maximize the balance between guest happiness and spending a fortune.
4. A spa
Whether that means a sauna, a bubbly freestanding bathtub, a facial station, or a private masseuse, it's up to you. There are plenty of spa solutions for all budgets and atmospheres. Your guests will feel pampered and regal once they experience the unforgettable treatments they receive at your B&B.
5. Slippers and bathrobes
There's just something about finding a crisp, white bathrobe at a B&B that makes you feel like royalty. Not only is it cozy and homey, but it's a treat often saved for special occasions or even people of high status. Allow your visitors to fully unwind in a luxurious bathrobe and slippers —top quality and affordable solutions are available wholesale. Go ahead and treat your guests to a few of these unforgettable amenities. And feel free to contact us with any questions about our products or pricing.
Share this item with friends